When it comes to hiring, the key to success is organization. You have a lot of applicants to sort through, and if you're doing things manually, it's easy to miss out on great candidates or even lose track of them completely.
An applicant tracking system (ATS) can help with that — it can streamline the hiring process so you can focus on finding the best talent.
An ATS can help you become a better recruiter by helping you:
Enter notes about prospective employees in one place for later reference
Keep track of multiple applicants for one position
Manage employee information once they are hired
Document any communication you have with an applicant in order to stay organized throughout the recruitment process
Easily filter through applicants based on different criteria such as industry or experience level
Save time and costs by automating manual tasks
As a small business, you don't want to spend too much money on an ATS. You need to be able to get the right people in the right jobs, but you don't have the time or money to invest in a complicated and expensive system. That's why we've compiled this list of simple and easy-to-use ATSs that are perfect for small businesses.
Let's See the 8 Best Talent Acquisition Software for Small Businesses
Zappyhire
Zappyhire is a talent acquisition software that offers comprehensive hiring tools in a simple, intuitive interface. With Zappyhire, you get end-to-end recruitment automation with job postings, automated applicant screening and scoring, customizable email templates, and seamless integrations with 3rd party applications. It ranks high in providing a seamless candidate experience as well. It offers a great value with good features, and is one of the best options to consider. It is also highly scalable, so it will hold up as your business grows. Zappyhire offers a free trial and starts at 39 USD per month.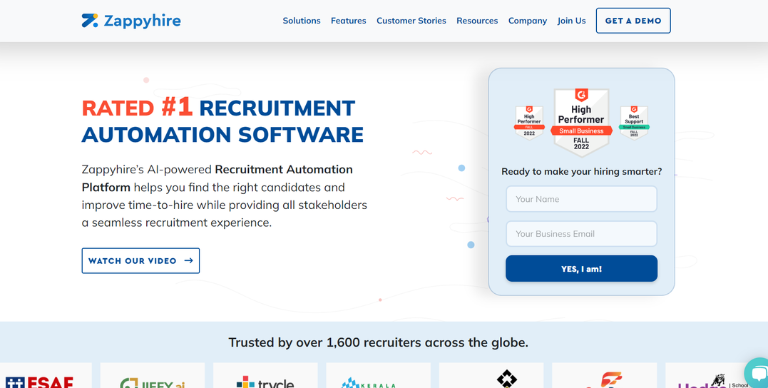 Key Features
Job Requisition
Careers Site
Advanced Analytics for data-driven hiring.
iSmartRecruit
iSmartRecruit is a recruiting automation software that provides a highly scalable AI-based Applicant tracking system (ATS) and recruiting CRM. It aims to offer excellent recruitment solutions to corporate HRs, mass recruiters, and staffing and recruiting agencies to automate their recruitment cycle by eliminating manual and repetitive hiring tasks.
The system they have designed can be executed in both On-Premise & Cloud delivery models. It is a cost-effective, highly secure, integral, and multilingual (English & Spanish) solution.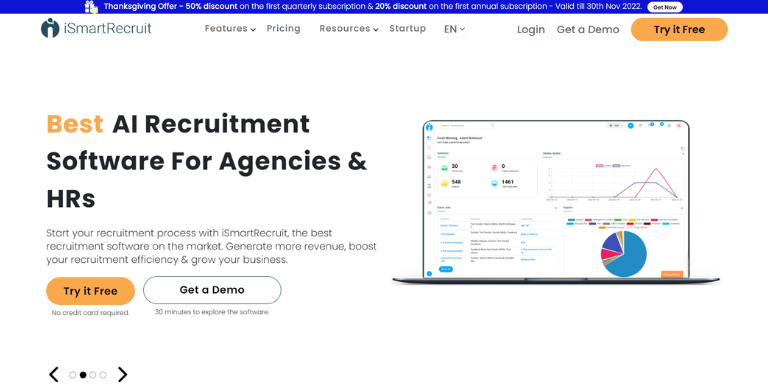 Key Features
Online skills assessment tools
Recruitment Chatbot – 24×7 support
Social Recruiting – easy and efficient job advertising
AI-based candidate matching
Resume parsing and management system
Video Interview tools
Candidate onboarding
Various hiring analytics – make data-driven hiring decisions
Skillate
Skillate has a variety of features that make recruiting easier for small businesses. Some of the things we love about Skillate are the resume parsing (which automatically pulls contact info from resumes), pre-screening questions that can be set up in advance and asked of all candidates, and automated calendar scheduling for interviews; sending emails in bulk is also effortless with Skillate.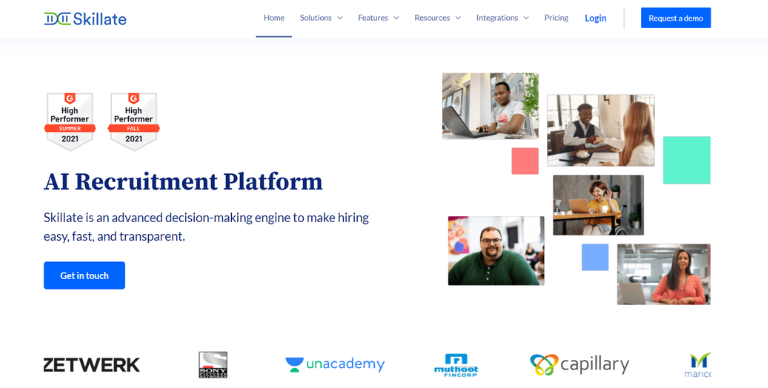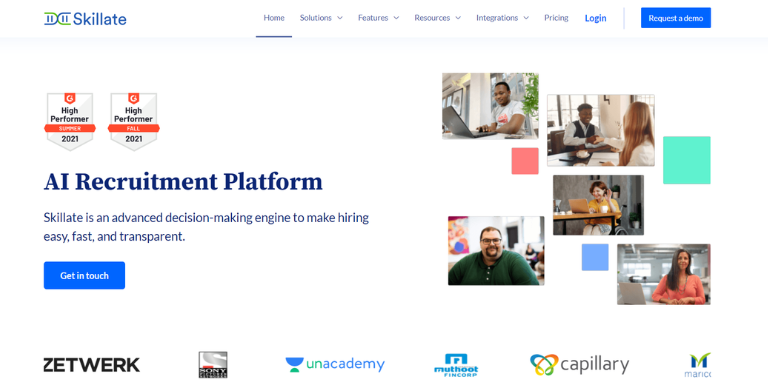 Key Features
CRM
Interview Management
Job Posting
Resume Parsing
TurboHire
TurboHire is another great option for small businesses. Its standout feature is its ability to create unique job pages that make your recruitment processes stand out from those of other companies. It also has multiple candidate pipelines, which makes tracking the progress of individual candidates simple. They also offer online and in-person training, along with a free trial.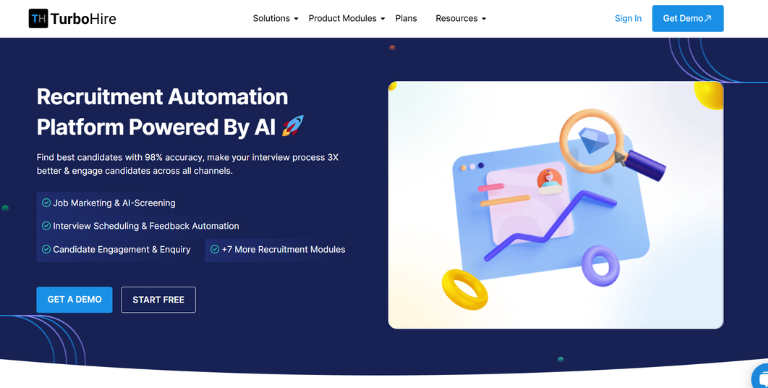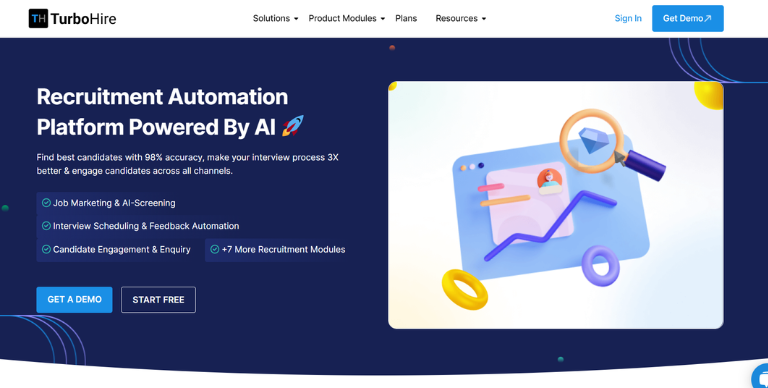 Key Features
Assessment Management
Background Screening
Candidate Management
Candidate Tracking
SmartRecruiters
SmartRecruiters is a fast-growing ATS that serves more than 4,000 customers worldwide. It's an intuitive system that's easy to use and offers a number of powerful tools that can help your company make better hires. Bosch and Visa use this software, although integrations with 3rd party platforms are said to be a bit challenging.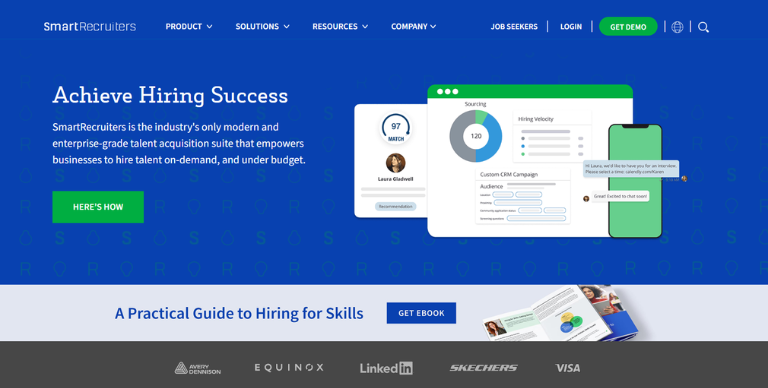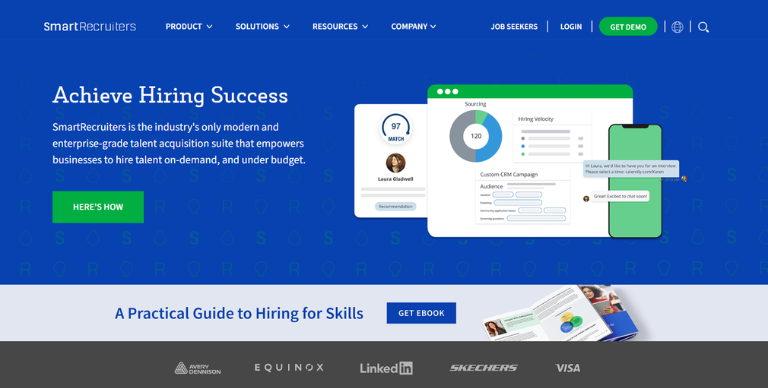 Key Features
Background Screening
Candidate Tracking
CRM
Resume Parsing
Recruitee
Recruitee is a cloud-based recruiting software with features such as applicant tracking, customizable careers pages and email templates that help companies streamline their hiring processes. Recruitee has a visually appealing dashboard where you can track various items such as jobs in progress or posted positions. It is being used by Dunkin' Donuts, Hotjar, Engie and Karl Lagerfeld, and starts from 109 USD.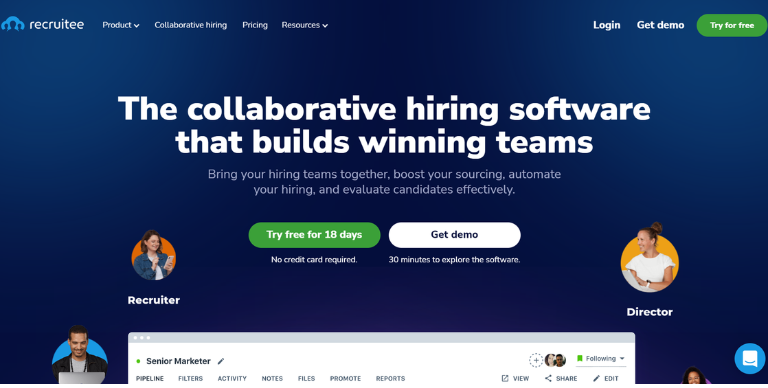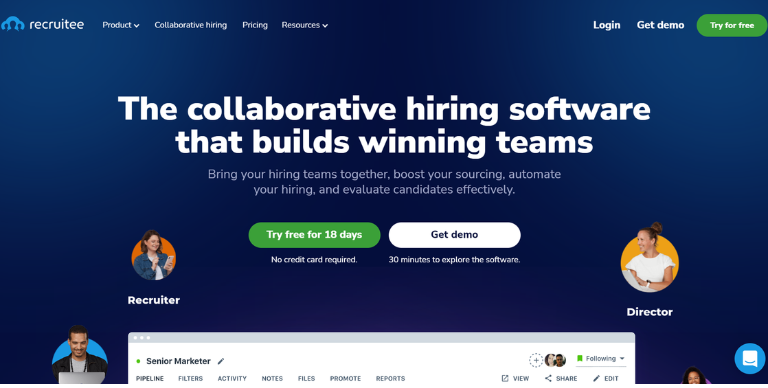 Key Features
Interview Scheduling
Job Posting
Background Screening
Candidate Tracking
Talview
For organizations looking for an ATS that can take care of every aspect of their hiring process, Talview may be the perfect choice. It lets you create custom assessments and gives you tools for conducting video interviews with candidates. Additionally, its user interface is clean and easy to navigate. It also offers tools for efficient pre-screening.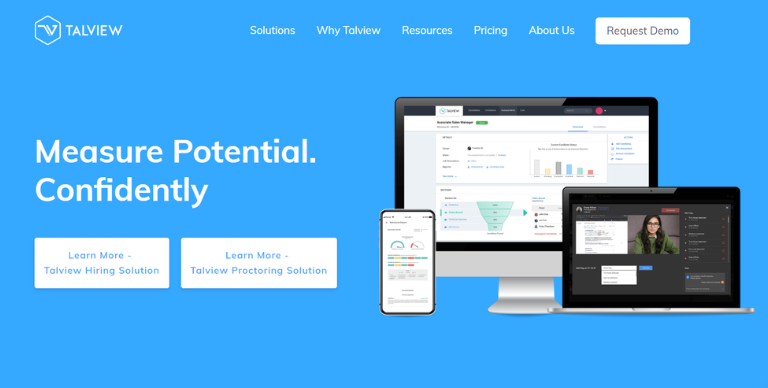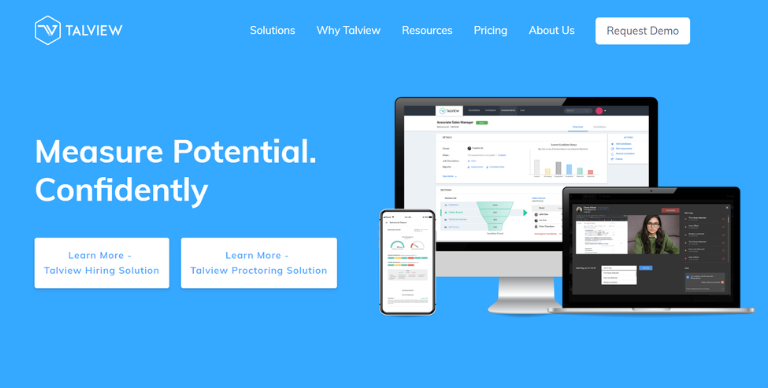 Key Features
Aptitude Testing
Assessment Management
Automated Proctoring
Personality Testing
BambooHR
BambooHR, like many other ATS solutions on the market, is a true one-stop-shop for your recruiting needs. With automation tools that cover everything from posting your jobs to sourcing candidates to scheduling interviews, it's a great option for businesses that want an integrated system to handle their hiring process. A con is that it is not very high on user-friendliness, but a good software nonetheless.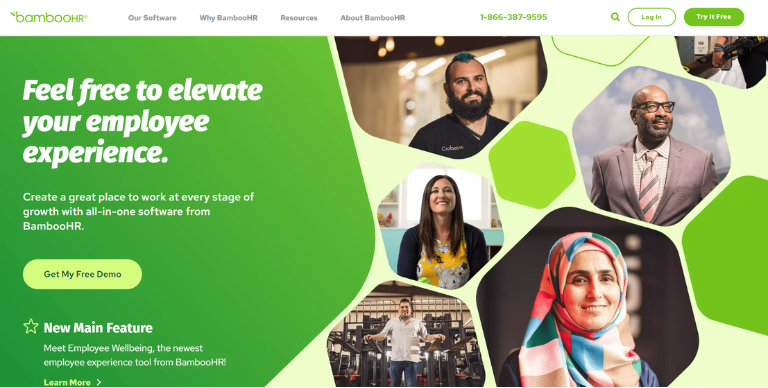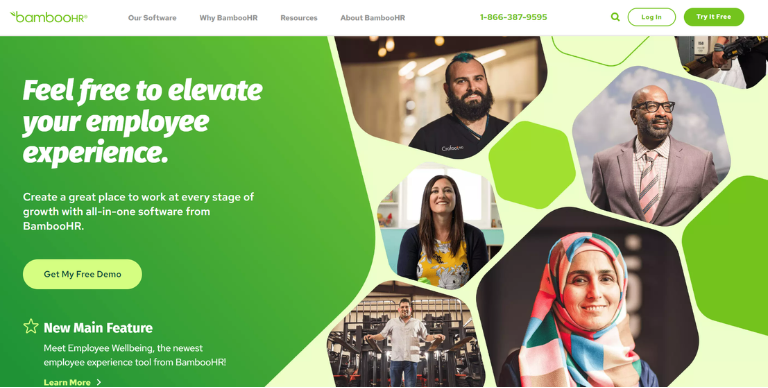 Key Features
360 Degree Feedback
401(k) Tracking
Automatic Time Capture
Billing & Invoicing
As a business owner, you must have figured out by now that hiring people isn't easy. It's not just a matter of lining up the most qualified applicants and picking one. There are dozens of factors that go into hiring someone.
The job market is tough, and it's certainly not getting any easier. Just finding the right candidates can take a considerable amount of time and effort. And once you find them, you still need to get the right information. You need to know what they are looking for in their next career move, what skills they bring to the table, why they would want to work for you, and more. The smartest thing to do is invest in an ATS; after all, having a highly motivated and enthusiastic team is the backbone for a successful organisation.