The candidate experience is an essential part of recruiting, and the way you handle candidates can make or break your reputation as a company. It's a key measure of employer brand and a predictor of candidate success, employee retention, engagement, and satisfaction.
Reports from LinkedIn state that 83% of candidates say a negative interview experience can change their minds about a role or company they once liked. Further, 87% say a positive interview experience can change their opinion about a role or company they previously doubted.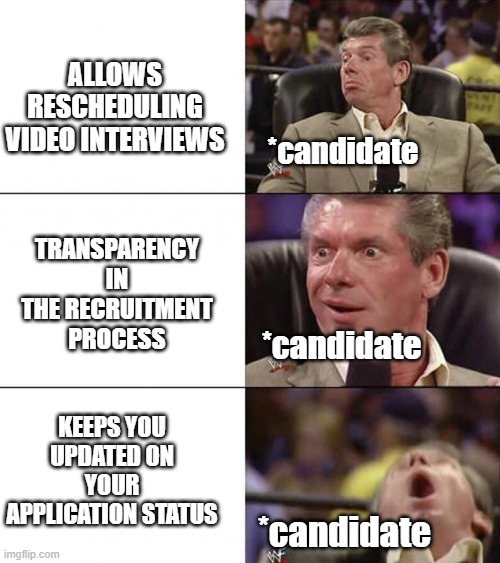 Recruiters and hiring managers are spending more time than ever before on understanding candidates and their motivations, which means that they need to step up their game and give candidates what they want.
But, what makes for a good candidate experience?
The answer isn't always straightforward – there are many factors at play that can affect how your company's candidates feel about your organization or the process of applying for jobs there. Here are 11 ways to improve candidate experience:
1. Make sure your job posts are accurate and attractive
A job post should accurately reflect the responsibilities and expectations of the role. The title should match the job description and responsibilities, while the actual job description should be detailed enough to give candidates a clear understanding of what they will be doing in this position.
It's also important that you make sure your job posts are well structured, written in an engaging style, and easy for candidates to read.
2. Improve mobile recruiting options
Candidates are using mobile applications and social media platforms to interact with companies in a way that's more convenient for them – a trend that will definitely continue.
With a low barrier to entry (e.g., no downloading required), an easy-to-use interface, and quick onboarding process, candidates can apply wherever they are while they're on their phones and then jump back into their day without distractions – saving both time and energy.
3. Send personalized messages
One of the best ways to create a positive candidate experience is to send a personalized message. A personalized message has been shown to be more effective than a standard message and can help you stand out from other employers.
You should use a conversational tone that conveys your interest in them as an individual while also being specific about next steps (if any) they need to take. If you have any questions for them, include those too!
4. Incorporate AI into the process
Speaking of personalization, an AI-powered ATS can not only help you automate repetitive tasks and save time, but also find the best candidates faster, engage with them in a more personal way, and improve your overall interview process.
From streamlining the application and assessment processes to automating communications, there are many ways that recruiting automation can help provide a great candidate experience.
5. Keep the candidate informed about their status
It's worth noting that 60% of job seekers quit an application in the middle of the process due to its length or complexity. If the candidate doesn't hear back from you within 48 hours of an application submission, then they will likely assume that there was no interest in their candidacy and move on. If this happens too often or if your response time is slow because of other reasons (e.g., when candidates apply at odd hours), then they might simply stop applying altogether.
While it may be a hassle to reply to every single candidate (especially if you're inundated with applications), remember that any communication shows effort on your end and can help build trust between potential employers and candidates despite any initial misgivings. Moreover, you don't have to do it manually, as it can be automated with the help of a recruiting automation software. Yet another reason to incorporate AI tools in your recruitment process!
6. Maintain transparency in the hiring process
Communication doesn't stop when someone applies; it should continue throughout the whole hiring process until they've been hired (or declined). The candidate experience is about more than just filling out forms – it's about making sure that each step of their journey is positive and productive.
It's very frustrating to not know how long an entire hiring process will take, so by communicating with prospective employees on a regular basis, you can avoid this issue.
63% of candidates are not satisfied with the communication from employers after applying

Talentegy
Candidates want to know what's going on, so keep them in the loop during the interview process and beyond: what steps are coming up next, whether they got the job or not, and how they did in their interviews (or why they didn't).
7. Acknowledge and solve scheduling conflicts
If you can or can't reschedule an (in-person, telephonic etc.,) interview, let them know. What's better is using tools like recruiting chatbots and robotic video interviewing software so that candidates can schedule and reschedule their interviews at their convenience and on the go.
Video conferencing has become increasingly common and is a great way for candidates to get their foot in the door without having to travel – and automated, robotic video interviews make candidates feel more at ease and allow recruiters to evaluate them at a time of their choosing!
8. Diversity, equity and inclusion (DEI) are sorely needed
Candidates (and people, in general) care deeply about societal inequalities, injustices and systemic issues – especially Millennials and Gen Z – and they are looking for companies that show they care too. In fact more than 60% of job seekers say they check social media for employee and consumer comments about workforce diversity, or lack thereof, at a company.
They want to work with companies that share their values, understand their needs, and make them feel welcomed and respected from the moment they land on the career website. So, a strong DEI statement and a diverse interview panel is a must in order to attract and retain the right candidates. 83% of job seekers state that enough to be a consideration when deciding whether to accept an offer, while a whopping 70% of employees go as far as saying they'd consider looking for a new job if their employer didn't demonstrate a commitment to promoting a diverse workplace!
9. Offer proper feedback
When you offer feedback, it should be specific and honest. This will help your candidates know exactly what they need to work on during their interview process so that they can improve their chances of getting hired later on down the road. Feedback should also be given promptly. Waiting too long before giving this information can lead some people to begin losing interest in a role if they don't feel like they're being supported by management during the hiring process. If candidates receive thoughtful feedback, they are 4x more likely to consider a company for future opportunities.
10. Give them the opportunity to provide feedback
You can do this by sending them a link to a short survey that asks about their experience with your company, their level of interest in joining, and any other general questions that would be helpful in gauging how well things went.
Asking for feedback is especially critical when it comes time to make hiring decisions because, if you don't know what your candidates think of your company, how can you improve?
Once you've collected this information, take some time to analyze it and make any necessary changes based on what people have told you.
11. Give candidates a reason to want to work for you
Provide them with a clear career path, opportunities for growth and development, and show that you genuinely care about the people who are working there.
93% of job seekers would like to be informed about the company culture, values, mission, and plans before accepting a job offer.

Glassdoor
The way that recruiters communicate with candidates is critical in determining whether or not they will want to work for your company. Additionally, being able to provide insight into what it's like at your company from an employee's point of view can help sway prospective talent toward accepting an offer from your organization over a competitor's offer.
We can't overstate the importance of a good candidate experience
The idea of improving candidate experience is not just a nice thing to do. It's an essential part of your company's success. In fact, if your candidate experience is poor, it will cost you in lost hires and bad reputation. And that's why we think it's so important for recruiters to take this issue seriously and make sure they're doing everything they can to provide a good one. A positive candidate experience also impacts whether they'll refer other qualified applicants in the future.
In fact, research shows that 77% of people making job decisions say they base their choice on company culture (and only 56% say they are more influenced by the culture than compensation!) That means that even if your pay rate isn't competitive or you don't offer as many benefits as another job posting, a great candidate experience can help you land out-of-the-box talent – and keep them around for years down the road.
At the end of the day, a good candidate experience is all about respecting your candidates. You want them to feel valued as people and potential contributors to your organization. If you can do that, you'll see an increase in interest from top talent who will be eager to work for you because they feel like they are being treated well and heard by those who matter most: their future managers and colleagues.