How can recruiters and hiring managers adapt to the evolving employment landscape, particularly with the growing demand for flexible work arrangements and the intricacies of remote work?
The rise of remote work has been a response to changing work dynamics, technological advancements, and a growing emphasis on work-life balance.
It is now an intrinsic part of the professional world, offering the ability to tap into a broader talent pool but presenting challenges in hiring and management.
As we explore the evolving landscape of work, it becomes evident that remote work is not just a temporary trend; it's a pivotal shift that's here to stay.
To remain at the forefront of the recruitment industry, HR professionals need to innovate their strategies for candidate engagement, support, and integration. Adapting to this change is essential for sustained success.
What is remote work?
Remote work, sometimes referred to as telecommuting, involves professionals executing their roles outside the traditional office setting.
This could be from their homes or shared working spaces. While technology has facilitated this transition, it requires effective communication, adaptability, and discipline from both employees and employers.
The rise of remote work and key remote work trends
This blog delves into the key remote work trends and statistics that have been shaping this new era of work, offering valuable insights for HR professionals and business leaders alike.
Take a look at the infographic image below or press the download button to download the PDF version.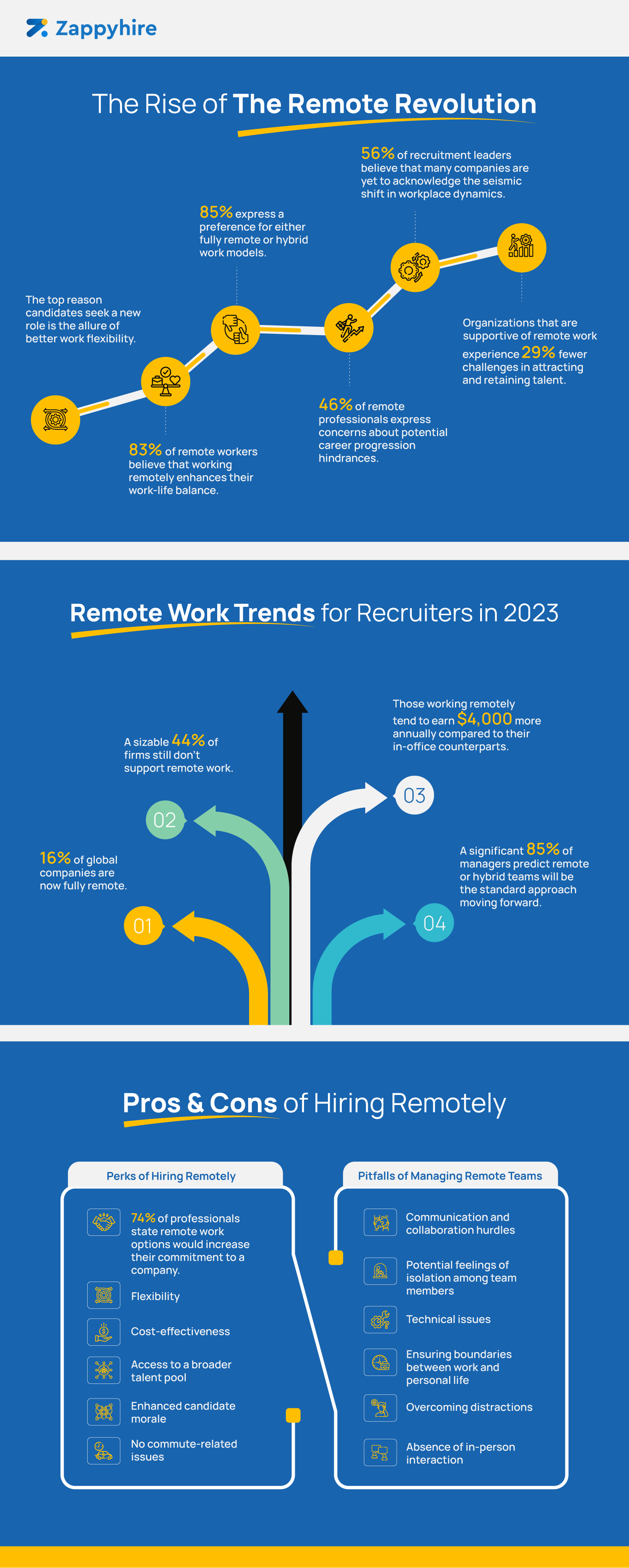 The landscape of remote work is rapidly evolving, and the numbers don't lie. In Buffer's 2023 report, a staggering 98% aspire to embrace remote work throughout their careers.
As the demand for remote talent surges, so do the challenges of hiring the right remote team.
If you and your team are faced with challenges pertaining to the same and are looking for a solution, you must definitely check out our comprehensive eBook, 'The Ultimate Remote Hiring Kit.'
Packed with pro-tips, and insights, it's every recruiter's go-to guide to navigate this booming remote work era successfully.

Conclusion
With remote work now firmly rooted in our professional landscape, there's no doubt that it's here to stay. This shift has transformed recruitment, beckoning a fresh perspective and adaptability.
Recruiters are no longer passive participants; they are the architects of a new world of work, underpinned by technology and defined by flexibility.

Understanding the value of remote hiring and flexibility has never been more crucial. It's about embracing the vast opportunities and potential that remote work offers, transcending geographical boundaries.
To thrive in this transformative era, leveraging the advanced capabilities of recruitment automation tools like Zappyhire to ensure a seamless remote hiring process, is imperative.

Therefore, recruiters need to stay prepared, stay adaptable, and keep evolving as they hold the reins, steering recruitment as we know it toward a more flexible world of work.