Ah, Valentine's Day! A day of love and romance, and what could be more romantic than finding the perfect match for your company's open positions? Finding the right match for your job openings can be a challenge, but with a little help from technology and a whole lot of heart, you can make the process a little less lonely.
Whether you're a seasoned matchmaker (recruiter) or just starting out, our 5 ways to fall in love with your recruitment process are all you need to find the perfect match, improve your process in no time and make you fall head over heels for your hiring process! So, grab a box of chocolates, a glass of wine, and get ready to swoon as we show you how to turn your recruitment process into a love story for the ages!
1. Find Your Perfect Match!
Just like in dating, finding the perfect candidate for your open position takes a little bit of work. But don't worry, taking the time to clearly define the skills and qualities (requisition) you're looking for will pay off in the end.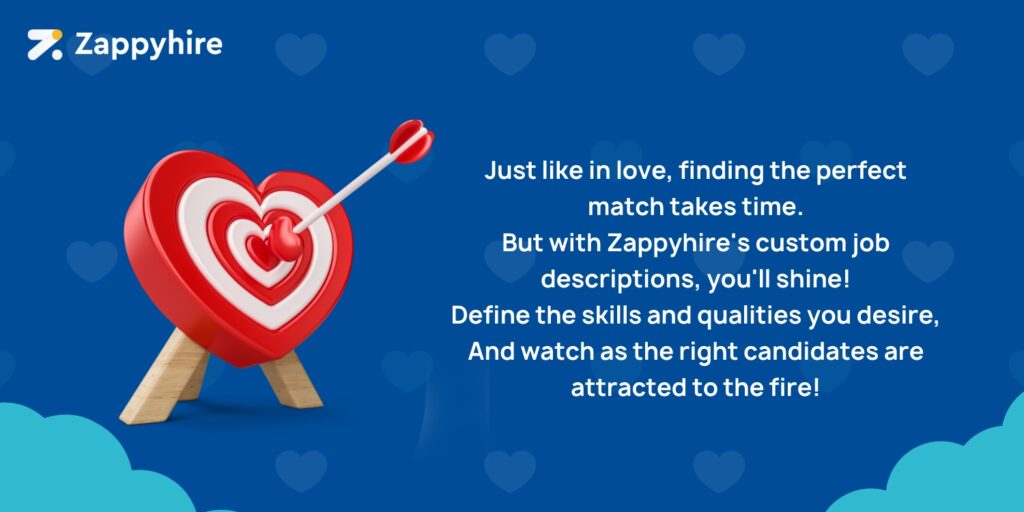 With Zappyhire, you can create a clear picture of your ideal match with custom job descriptions, and use that as your guide in your search. It's like having a wingman in your job search! You can filter candidates based on your own criteria or our AI-powered solution automatically matches the right candidates with the right skillset for you. Either way, you're the one in control! With a clear picture of your ideal match, you'll be sure to attract the right ones with clear expectations and find "the one" in no time!
2. Swipe Right on Recruitment Automation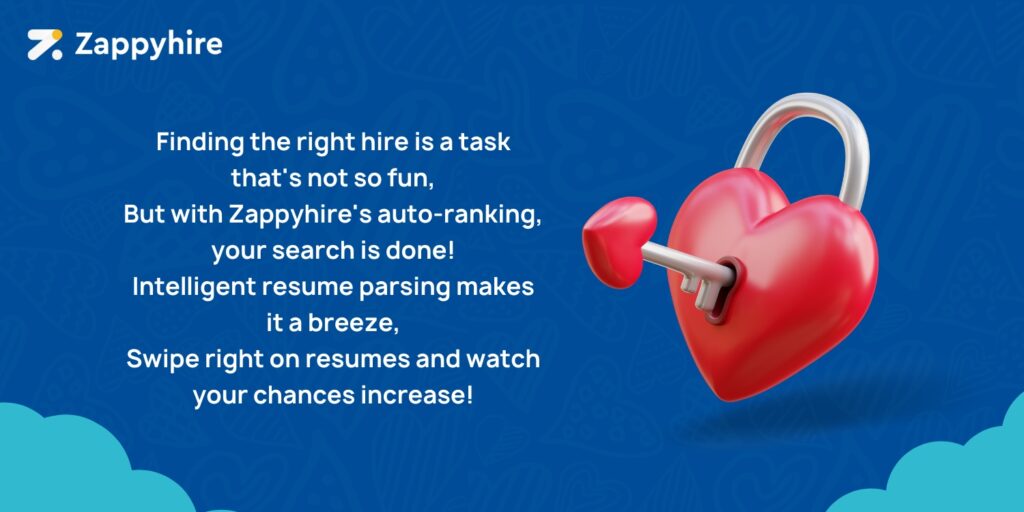 Finding the perfect candidate can be a time-consuming process, but with the help ofrecruitment automation software, you canspeed things up! Consider it a matchmaker for your job search. With auto-ranking andan intelligent resume parser, swipe right on resumes and applications to quickly narrow down the pool of potential candidates! Conduct initial screenings and schedule interviews with ease using a variety of intelligent tools! This will save you a ton of time and help you find the best match for your open positions, all the while making you fall in love with the recruitment process!
3. Social Media Serendipity
Cupid just got a tech upgrade! Social media platforms can be a great way to connect with potential candidates. Use platforms like LinkedIn, Facebook, etc. to post job listings, connect with potential candidates, and build a talent pipeline.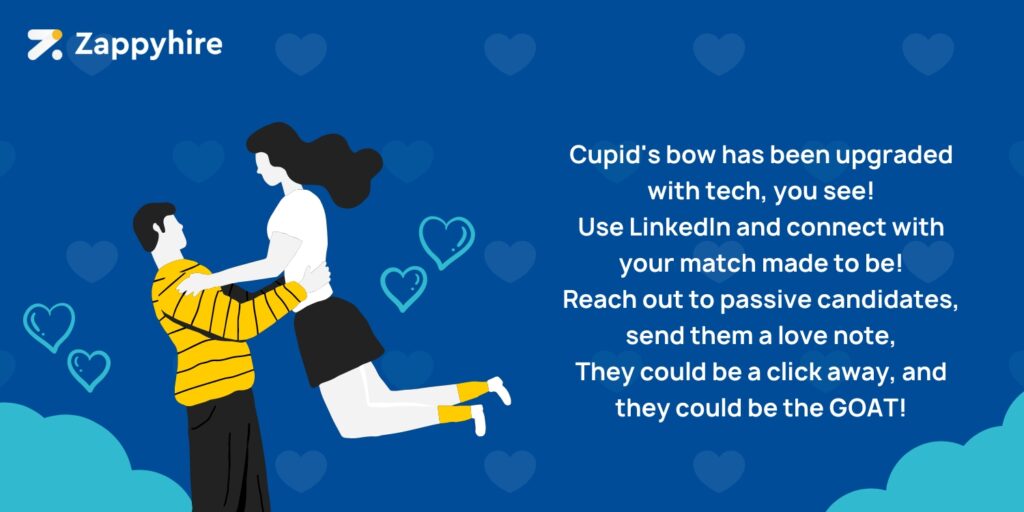 Reaching out to passive candidates is like sending a love letter in a bottle, hoping it finds its way to the right recipient. You never know, your perfect match may just be a click away. So why not try your luck on social media and see who catches your eye?
If you need a bit of a nudge in the right direction, check out this ebook that'll give you the scoop on everything you need to know aboutSocial Recruiting!
4. A Love Note After the First Date
After interviews, be sure to follow up with all candidates, regardless of whether or not they were chosen for the position. Provide feedback and keep them informed about the status of their application by using avariety of communication channelslike WhatsApp, SMS etc. A little bit of love and consideration can go a long way in fostering positive relationships with candidates and keeping your company on top of mind for future opportunities.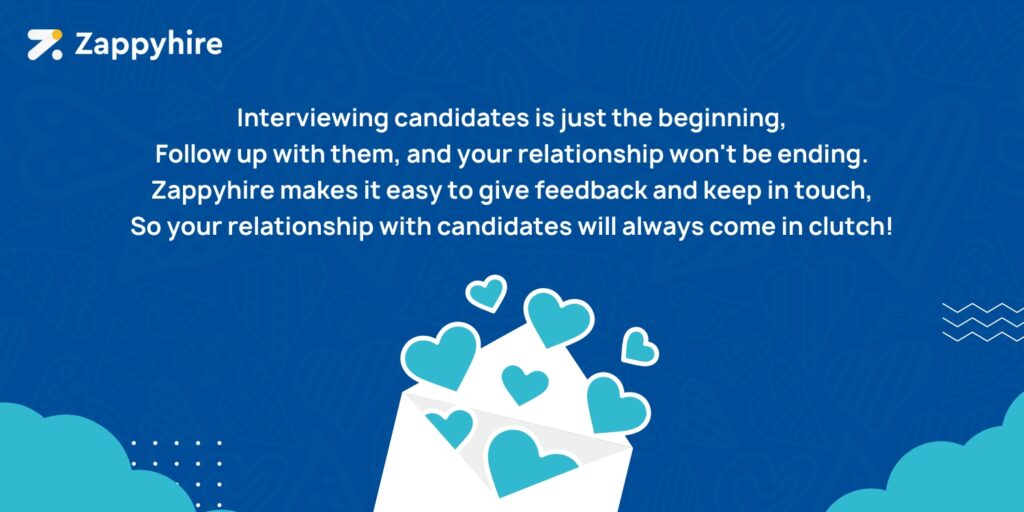 Best part? You don't have to painstakingly engage with each and every candidate manually. Zappyhire makes it easy to follow up with all candidates, regardless of the outcome, with customizable feedback templates and status updates. Keep your relationship with candidates strong and top-of-mind for the future!
5. Treat 'em Right!
The way you treat candidates during the recruitment process can have a big impact on their perception of your company. Create a delightful candidate experience by treating each candidate with the respect and appreciation they deserve. A little bit of honesty and promptness go a long way in making a lasting impression. You never know, they could be your sweetheart candidate in the future.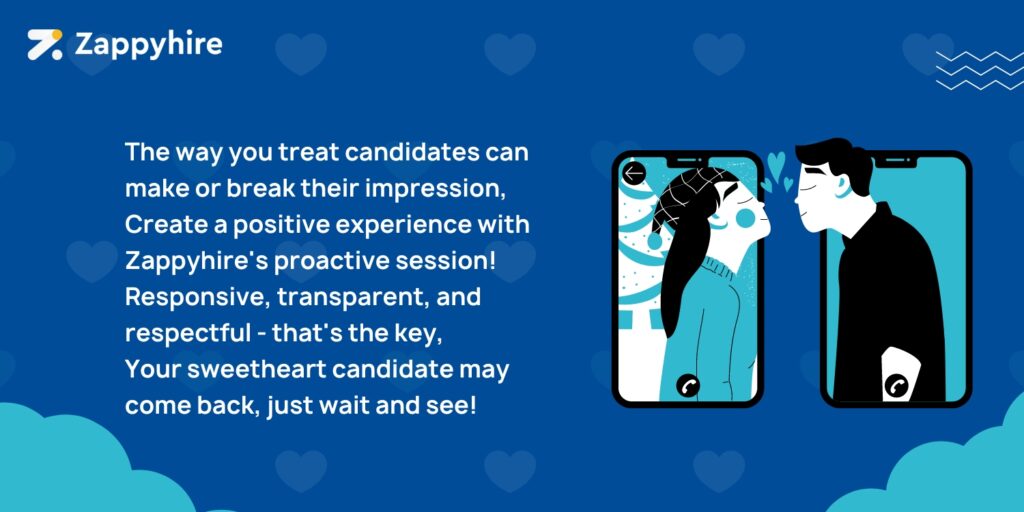 Create a positive candidate experience by being responsive, transparent, and respectful throughout the process. With self-scheduling robotic video interviews which candidates can attend on the go, andchatbotsto answer their questions promptly, candidates will appreciate knowing the feedback and where they are in the application process.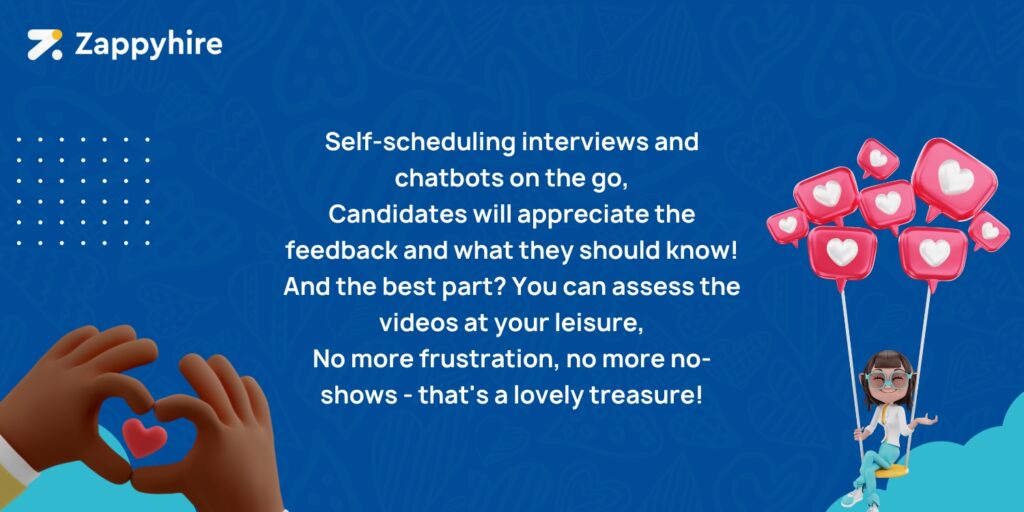 And what's more? You don't always have to be on standby – you can kick back and assess the recorded video interviews at your own convenience! No more frustration of being stood up – eliminate candidate no-shows!
A Happy Ending!
So there you have it, folks! 5 easy ways to fall in love with your recruitment process this Valentine's Day! With Zappyhire by your side, you can find your perfect match, save time and effort with recruitment automation, connect with candidates through social media, follow-up with love notes, and create a delightful candidate experience! So get rid of the stress, and get ready to fall in love all over again with the recruitment process!
And the best part? All of this and more can be yours with just a click of a button! So why wait? Book a demo with us today and let Zappyhire be your matchmaker in the world of recruitment! Let the love story begin!