If you want your organization to be successful, you need to have the right people on board. You need employees who are genuinely invested in your company's success. These individuals will positively influence and contribute to the company's growth and success.
This is why recruiting the best talent is so important. However, managing the recruitment process can take a lot of time and be a real challenge, especially if you aren't using the right tools.
Fortunately,recruitment softwarecan streamline the process and help you find the perfect fit for your team. This blog post will discuss why you need good recruitment software and how it can help you save time and money. Let's dive in!
1. Streamline the recruitment process
As businesses continue to expand and evolve, the need for new hires is ever-present. However, finding the right candidates and completing the hiring process can be time-consuming and costly.
According to new forecasts, the HR tech market will reach $90 billion by 2025. This is an 89.87% jump from 2021 data. Recruitment software will also eliminate the manual labor that comes with the recruitment process. It can streamline tasks such as posting job openings, collecting applications, screening resumes, and tracking applicants. This allows recruiters to focus on the more essential aspects of the job, such as interviewing and hiring the most qualified candidates.
Recruitment software can also help employers to make the right hiring decisions. It facilitates detailed report generation that gives employers a better understanding of the candidate pool, including candidate skills, experience, and qualifications.
2. Reduce time-to-hire
In the past, hiring used to be a lengthy and arduous process. It could take weeks or even months to fill a position, as employers had to manually screen resumes and conduct in-person interviews with each potential candidate.
The process is complicated because employers have to contact references manually and verify credentials. In some cases, the process could even involve conducting background checks.
Recruitment tools have changed this and drastically reduced the time it takes to fill a position. It automated searching for potential candidates and collecting all of the data needed to make the right hire.
3. Enhance employee experience
As companies rely more and more on their employees to drive success, it has become increasingly important to ensure that they have a positive and productive experience in the workplace.
We've seen how waves of workers left their jobs in record numbers, starting in the spring of 2021. And how this unprecedented phenomenon has left employers scrambling to fill positions and adjust to the sudden upheavals in the workforce.
Recruitment software can provide a better experience to applicants by enabling them to apply online and track their progress throughout the recruitment process. Hiring tools can give candidates a more efficient and user-friendly way to apply for jobs. It can offer automated communication tools and provide comprehensive screening and assessment tools
4. Increase efficiency
While manual recruitment processes can be inefficient, outdated, and error-prone, today's top recruitment software solutions offer various advantages for streamlining the hiring process. Recruitment software can reduce manual tasks, such as sorting through resumes and tracking candidate progress.
It also allows companies to store data in a central location, which gives hiring managers access to essential documents and information with the click of a button. This not only saves time and helps ensure accuracy, but it also helps keep recruiters organized and connected with the right people.
5. Reduce cost-per-hire
Recruitment software can help companies save money by reducing the cost-per-hire associated with manual processes.
This will save hours upon hours usually spent combing through stacks of resumes, resulting in substantial time savings for companies. This time savings can lead to cost savings by lessening the hours spent on recruiting, resulting in fewer person-hours.
Like recruitment tools, the best HR software platforms can also help reduce hiring costs. By reducing the time needed to find and hire qualified candidates, HR software can help reduce the amount of money and resources spent on hiring.
6. Improve the candidate pool
With targeted messaging and tracking abilities, recruitment software can provide better insight and analytics about the types of people and companies responding to job posts. This data can then be used to create a more defined job ad that reaches the right people.
Recruitment software can also help companies expand their candidate pool by posting job openings on job boards and social media sites. Similar types of software can also help the organization find passive candidates, allowing them to look outside their immediate network.
7. Enhance communication
Communication is an integral part of recruitment. Recruitment software ensures that communication with candidates is consistent, timely, and relevant. Recruitment software can help improve communication between recruiters and applicants by enabling automated emails and notifications.
It also helps to build meaningful relationships with potential employees. For example, employers can use the software to keep in touch with those who expressed interest or applied for a job but were not selected. This helps to ensure that the best talent is considered by the company, even if they do not make the cut.
8. Enhances data security
Recruitment software saves time and money by automating most of the data entry and allows employers to create secure databases of applicant information. These databases are protected with strong passwords and encryption techniques so only authorized personnel can access the data. Furthermore, according to applicable laws and regulations, recruitment software can store data in a compliant manner.
This minimizes the risks of data breaches. It can track who accesses the system and when letting employers know what data is being viewed and by whom. Companies can also set restrictions on who can view and edit certain applicants' data. This protects sensitive information from unauthorized access.
9. Leverage Social Media
In today's world, social media is an integral part of many aspects of our lives. From staying connected with friends and family to sharing content online, our society heavily relies on social media platforms to share information.
This means that for businesses, optimizing their use of social media is critical for success. Recruitment software, in particular, can significantly benefit from utilizing the power of social media to recruit the best talent.
One way that recruitment software can leverage social media is by using it to source candidates. You can use social media to find potential candidates through job postings, employee referrals, and targeting specific individuals with relevant job postings.
This can be especially effective for targeting passive candidates and individuals who may not actively seek a role within the company. Furthermore, you can use social media to engage prospective employees and create a connection, even before an interview.
10. Make better hiring decisions
Smart hiring practices ensure that the best talent is selected and increase the likelihood of the long-term success of your business.
Good recruitment software can collect data from various sources (applications, job postings, etc.) and use that data to make more informed decisions about who to hire. Companies can determine which applicants have the skills, experience, and qualifications to be the best fit for a particular position.
HR tools like these BambooHR alternatives are helpful for small to mid-sized businesses optimize their hiring processes.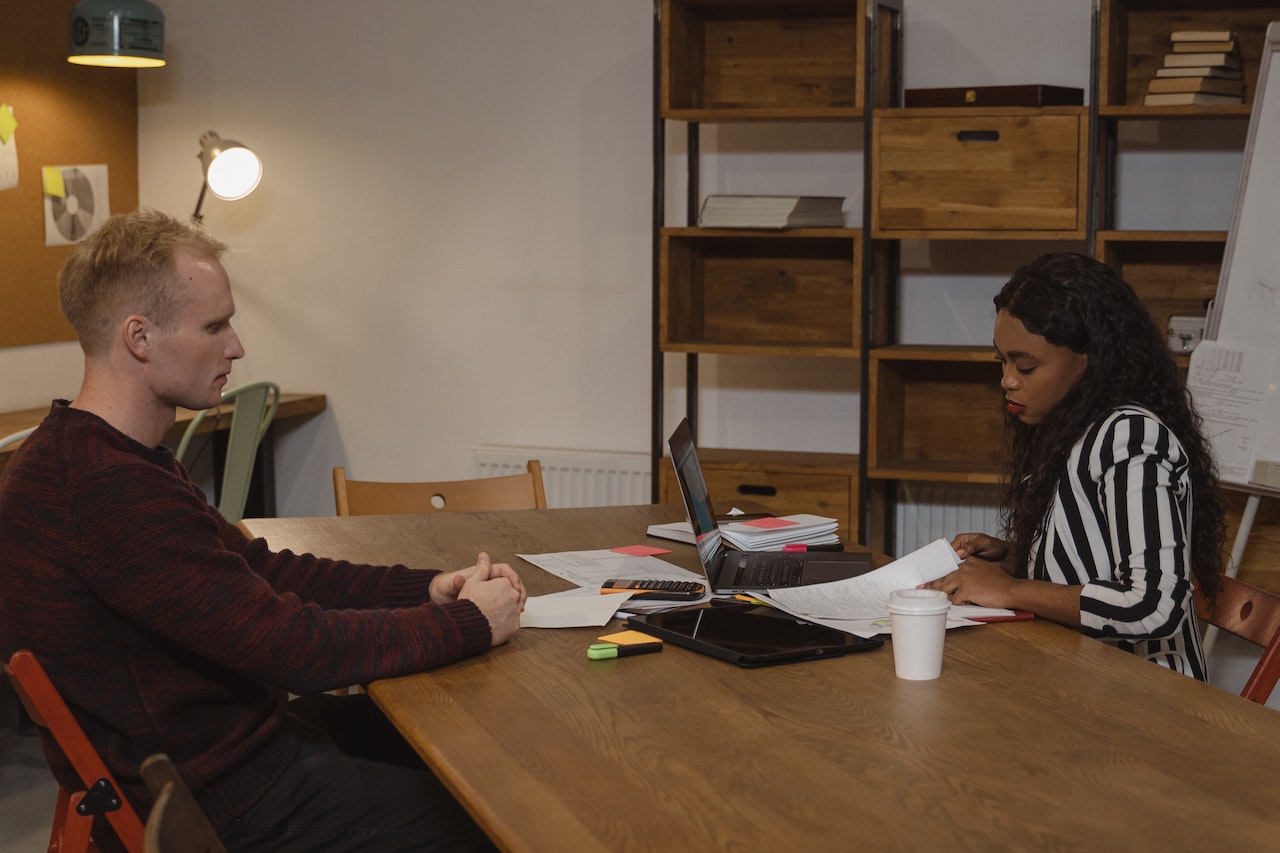 Image from Pexels
Unlock Your Business' Potential With Recruitment Software
Recruitment software can be an excellent asset for businesses of all sizes. It can help make recruitment more efficient and effective, allowing businesses to select the best candidates for the positions available. By streamlining the recruitment process, businesses can save time and resources, allowing them to focus on other areas of their business.