Recently, Kerala Startup Mission (KSUM) chose Zappyhire, a global leader in recruitment automation, to attend the Four Years from Now (4YFN) conference in Barcelona, Spain. This occasion, which was a part of the Mobile World Congress (MWC) Barcelona 2023, presented by the GSMA, spanned from February 27 to March 2, 2023, and is one of the premier startup showcases in the world. The 4YFN 2023 experience for Zappyhire was nothing short of amazing.
Jyothis KS and Deepu Xavier, Zappyhire's co-founders, represented our startup and attended this four day event, which was indeed a great experience, as it provided an ideal platform to showcase Zappyhire's innovative recruitment automation software solutions, including its Spanish version, to a global audience. It was also an incredible opportunity to network with other players in the industry. Zappyhire's participation in this event highlights its potential to become a major player in the recruitment automation software market and its commitment to driving innovation in the industry.
Our co-founders made many valuable connections and networked widely, returning home with a significant number of promising collaborations . At the event, our robotic interview feature attracted a great deal of attention, and attendees flocked to our virtual booth to discover more. Along with Zappyhire, nine other startup teams, including SmartMatrix, Fitin Consultants, GreenAds Global, Treatpatient, Lanware Solutions, OfficeKit, PreMagic, Quickpay, and Riafy Technologies, were chosen by KSUM to attend the event in Barcelona this year, which was truly a memory experience in every aspect.
Intrigued? This blog shall unpack the entire experience for you, complete with exclusive pics straight from the heart of Barcelona! Read on!
4YFN: Where innovators, change makers and entrepreneurs collide
4YFN, the world's largest startup event, brought the best of the best of the startup world together, providing them a platform to connect and launch new business ventures together. The huge turnout was evidence that innovation, and ideas were in the air. Almost 80,000 individuals attended the event, with around 20,000 attending the startup event 4YFN alone, which was an ideal set-up for businesses looking to explore the European markets. The event also saw keynotes, panel discussions, and startup competitions among others and notable speakers including Jim Adler, Nishant Batra, and Michelle Klein discussed industry trends and best practices at 4YFN 2023. The event also featured investors like Damien Balsan and Meg Blight, and focused on themes of Creative Minds, Founders, and Investments and CVC.
Each of the four days of the event had something new and exciting to offer and our co-founders did not have a single dull moment at the event. Here are the top moments from each of the 4 days at 4YFN 2023!
*Day 1 Highlights: Innovation And Passion Took The Center Stage
On Day 1, Zappyhire's robotic interview demonstrations attracted a lot of attention with scores of individuals intrigued by our product and its innovative features. Our co-founders were happy to meet a wide variety of people, including other startups from Kerala. They also had a chance encounter with Ravi Kuppuraj , the COO of Titan Company Limited, and discussed our shared passion for craftsmanship!
Zappyhire had a great first day at 4YFN and learned a lot. We were also happy to represent Kerala's expanding startup ecosystem and demonstrate our unique abilities and ideas on a big stage such as this.
Here's a glance at everything that went down on day 1 at 4YFN 2023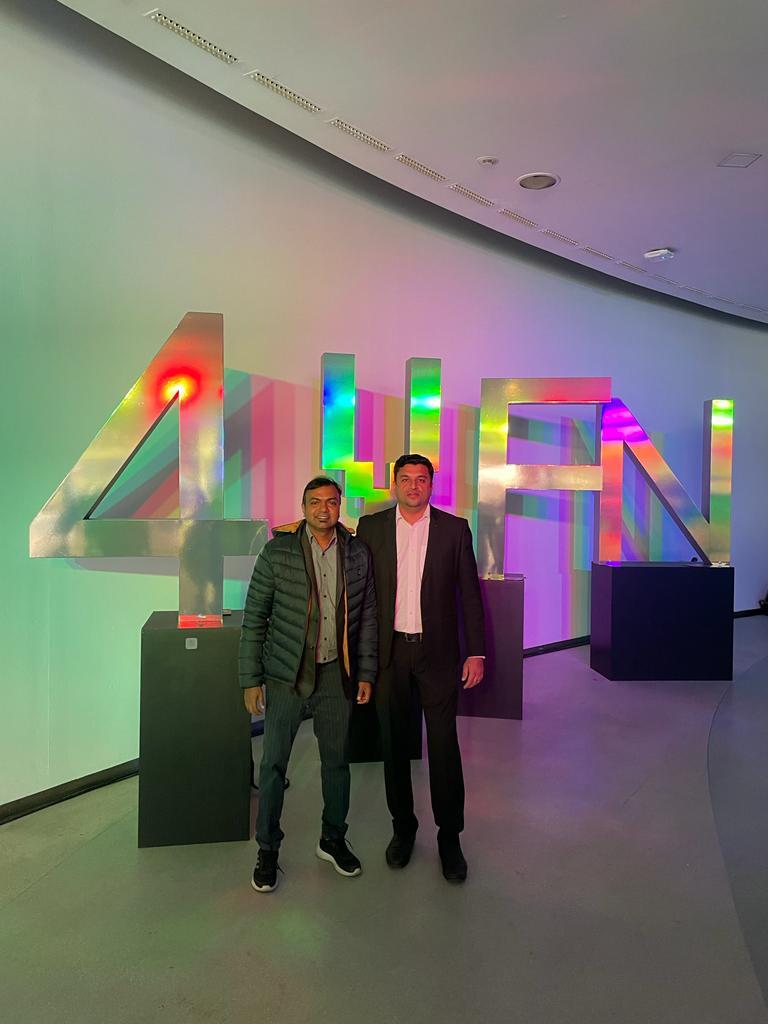 *Day 2 Highlights: A Rollercoaster Ride Of Learnings And Valuable Connections
Zappyhire had a wonderful experience on day 2 of 4YFN. New and returning visitors to the virtual booth were eager to find out more about our startup's cutting-edge solutions, especially the robotic video interview feature. We enjoyed showcasing our platform and connecting with other global changemakers.
The co-founders of Zappyhire also had the privilege of speaking with Ms. Prithika Rani IFD, Third Secretary of the Indian Embassy in Spain, on their love of technology and innovation as well as their nation.The conversation was insightful and explored the synergy of these roots, leaving everyone with newfound knowledge and inspiration.
The day was packed with stimulating discussions, novel insights, and varied learning. It was indeed everyone who visited Zappyhire's virtual booth that helped make Day 2 a total success.
The following pictures aptly sum up our eventful day 2 at 4YFN 2023!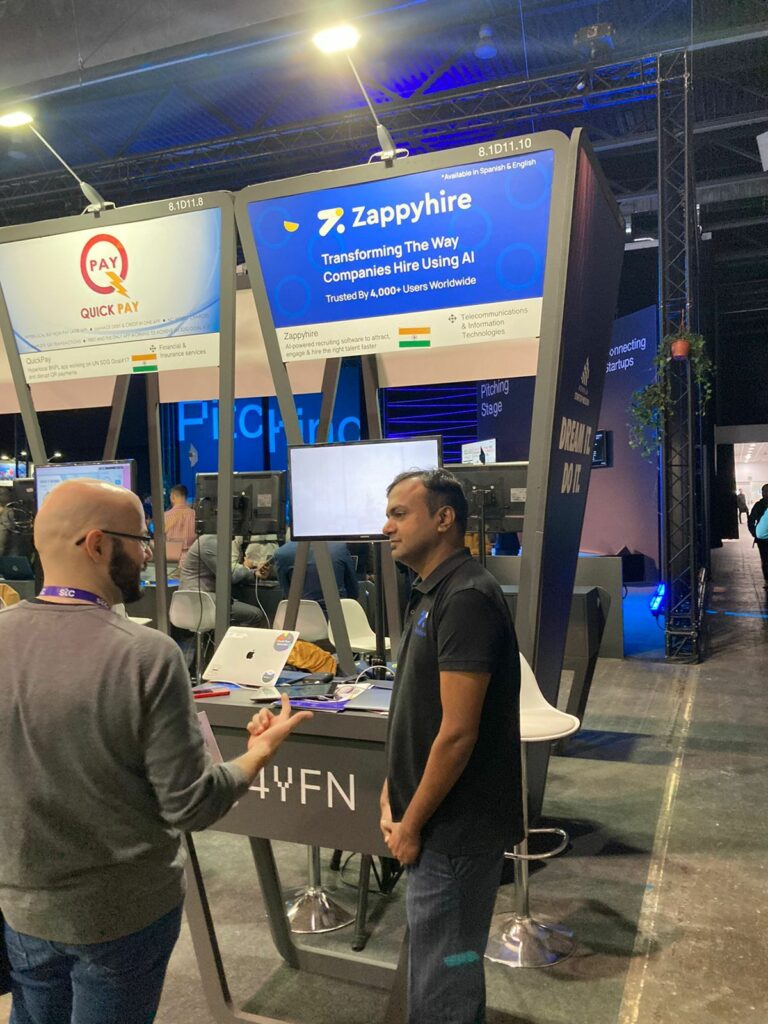 Day 3 Highlights: The Unleashing of Synergies between Innovation and Inspiration
Zappyhire had an incredible time on Day 3. A wide range of enthusiastic attendees and spectacular booths and displays filled the day.
Aleix Valls, the CEO and Founder of LiquiD and a historian of the Digital Revolution, struck up a fascinating conversation with the co-founders during which they traded ideas and viewpoints. In hindsight, 4YFN'23 was the perfect environment for the interaction of innovative businesses and changemakers since the synergy of inspiration and invention was evident.
The energizing discussions, insightful insights, and networking opportunities that Day 3 offered electrified Zappyhire.
An insight into day 3 at 4YFN-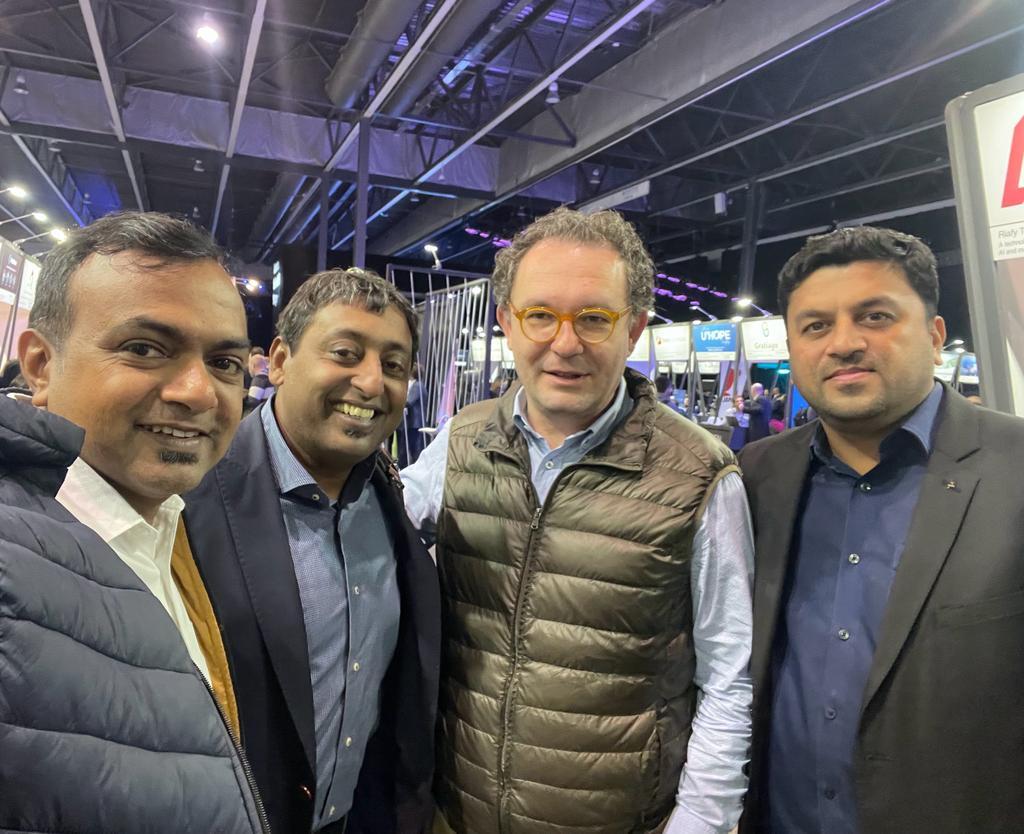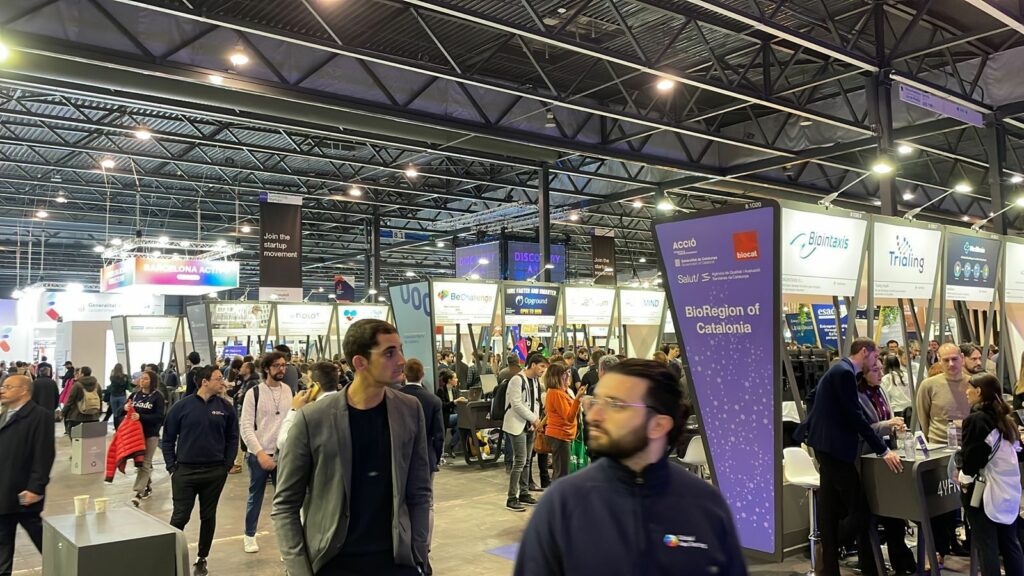 *Day 4 Highlights : Closing the book on an Exciting and Enlightening chapter
Our team's fantastic experience at 4YFN 2023 came to a conclusion on Day 4. With almost 80,000 visitors from different nations, the event was a spectacular success. The co-founders had the privilege of speaking with the Government of India delegation, which included Shri V.L. Kantha Rao, Additional Secretary for the Department of Telecommunications, on the most recent advancements in the tech industry. Every nook and cranny of the room was brimming with innovation, fresh ideas, and inspiration which truly invigorated us.
Moreover, Mathangi S, a dear friend of our co-founders and a remarkable woman in tech, who holds a senior position at Accenture, was able to catch up with them. The discussions shed light on the most recent developments and difficulties facing the sector.The conversations were insightful and provided valuable insights into the industry's latest trends and challenges.Curious about our final day at 4YFN?
Allow us to satisfy your curiosity with some exclusive pics from day 4!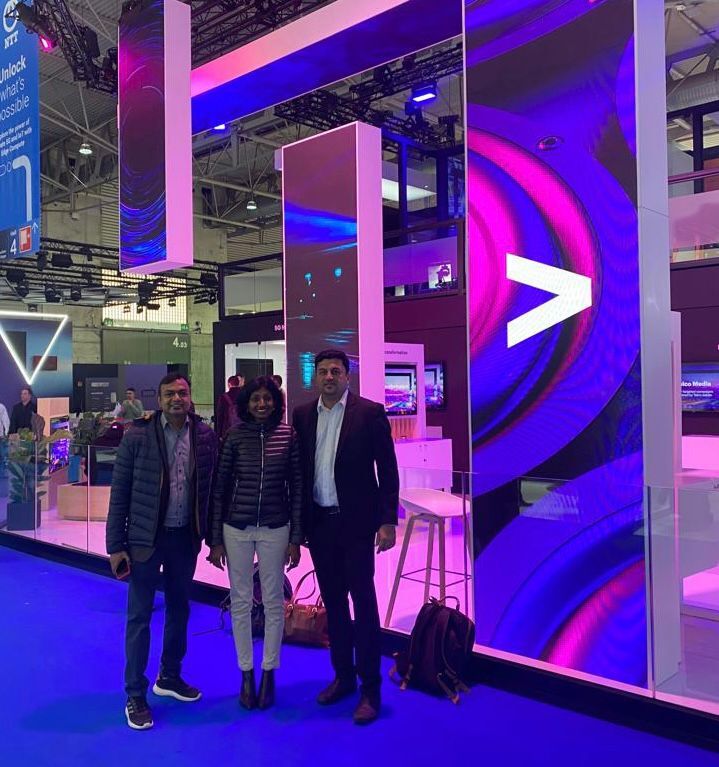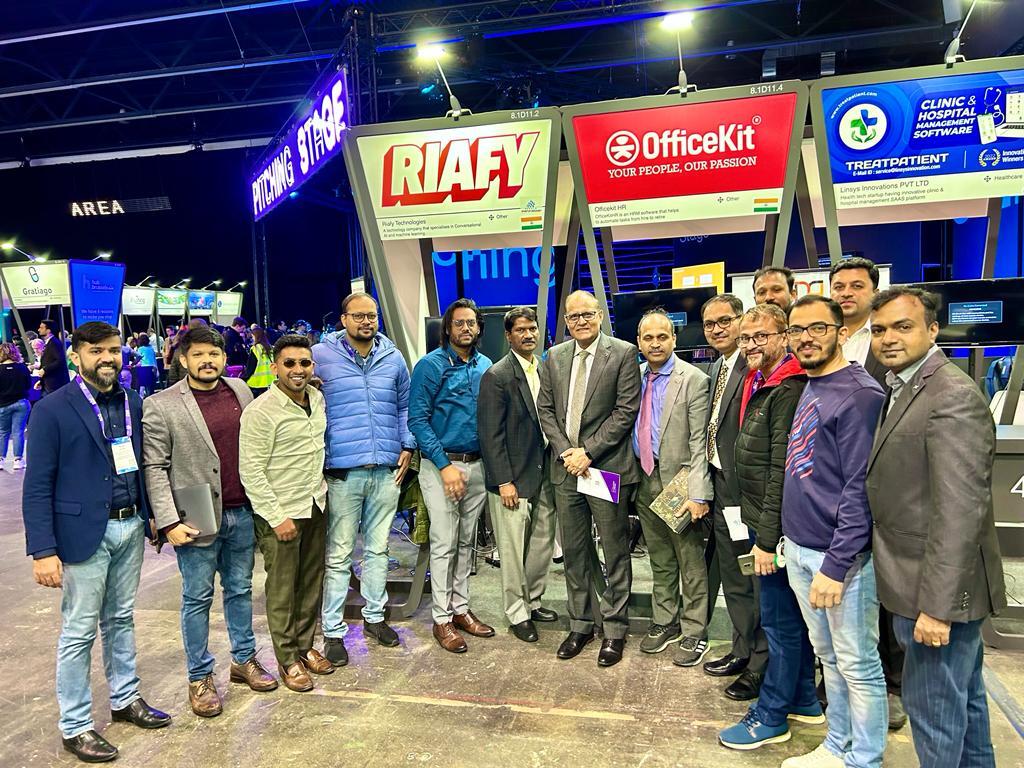 Experience is the Best Teacher: 5 key lessons from 4YFN 2023:
Every experience is a lesson in disguise. The following are our key takeaways from 4YFN 2023:
Passion is the driving force behind changemakers all across the globe. The event was a testament to the fact that passion can bring about groundbreaking ideas and innovations.
Necessity may not always be the mother of all invention. Sometimes, it takes discovering something new or realizing the potential of something old to bring about change.
People must be at the center of all that you do. It is crucial to keep the end-users in mind while developing products or services.
Change is the only constant, and as innovators and changemakers, it is unacceptable to become complacent. Continuous improvement and innovation are necessary to stay ahead in the game.
Thinking out of the box and thinking years from now is critical. By thinking in terms of 'four years from now', we can develop ideas and innovations that are not only useful but also future-proof.
Zappyhire's experience at 4YFN in a Nutshell: An unforgettable journey
Zappyhire had a fine experience during the 4 day-long event. We had the chance to interact with amazing people who displayed shared enthusiasm for innovation and change. The event was beneficial for Zappyhire and also for our co-founders individually, as they gained a lot of knowledge through the numerous discussions and interactions.
Our co-founders left Barcelona with renewed enthusiasm to develop and reach new heights. We are sincerely grateful to KSUM for providing us the chance to take part in 4YFN 2023 and for the great connections we were able to make.
Even though our journey with 4YFN 23 has come to an end, we at Zappyhire will continue on our path to greater heights. We are eager to build on this momentum and keep bringing about positive change in the recruitment industry and beyond. It's only onwards and upwards from this point.
Adios 4YFN 2023!