We had an amazing time at People Matters TechHR India 2022, which was held in Gurgaon and attended by over 3000 delegates. We met thought leaders, startup founders, and a whole host of other people who are just as committed to improving lives through HR tech as we are. Our booth was visited by 500+ people during the two days of exhibition and we had many positive discussions with them on how they can use Zappyhire to simplify their recruitment processes.
It was an enriching journey—we learned so much from the speakers and the other attendees. It was also an incredibly productive two days as we met a lot of great companies, including some potential clients and partners, and had the opportunity to showcase the wonders of recruitment automation!
What a Turnout!
In addition to being a gold partner at the event, we had a high footfall at our booth, which meant lots of potential clients and partners stopping by to talk about how we can help them, not to mention the attendees who were excited to take part in our games and quiz to win goodies!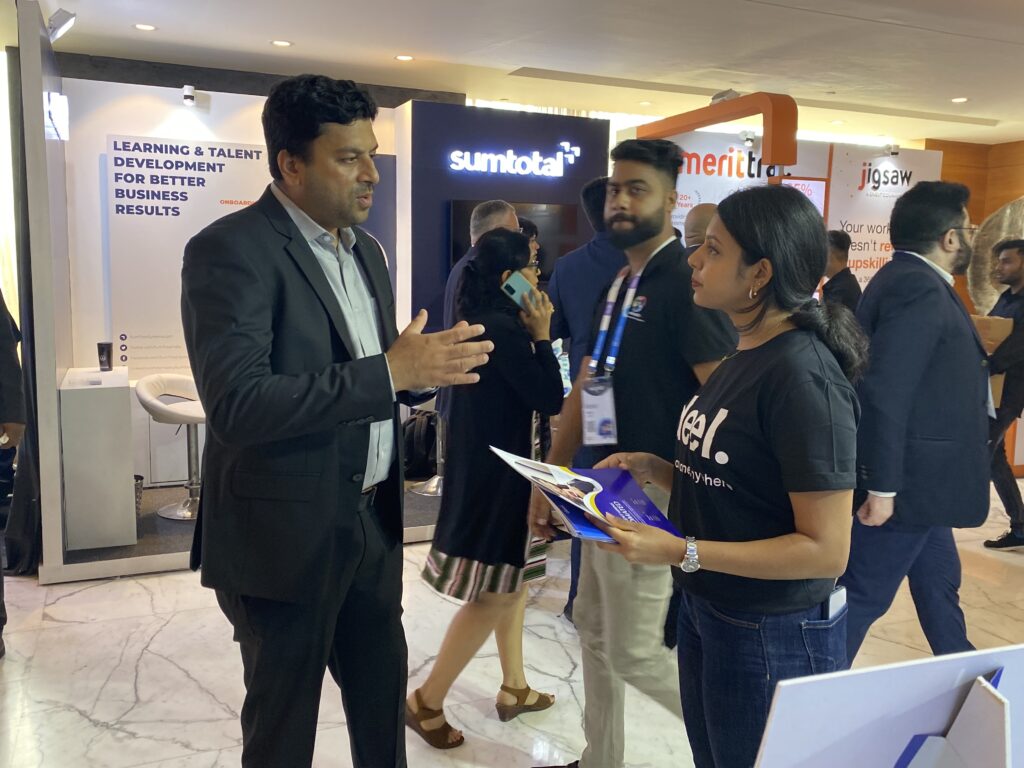 We had a great time meeting with some of our customers, as well as new prospects interested in intelligent, automated hiring for their teams. The event was well-attended by HR leaders, startups and HR tech industry giants. We had the opportunity to speak with HR leaders from various industries who were looking to scale their operations and acquire the right talent using automation across different positions such as sales and service, hospitality, operations etc.
It was reassuring for us when so many SMEs expressed interest in using Zappyhire to simplify their recruitment process and save time and money.
Our Fireside Chat!
It was also great to see how excited everyone was about the panels—there were some really interesting conversations happening! With excellent candidate experience being one of the biggest advantages of using Zappyhire, one of the major highlights was the Fireside Chat on 'Managing the Great Expectations: Elevate CandidateEX with AI' with Deepu Xavier, co-founder of Zappyhire and Jayashubha K, Chief People Officer, TVS Credit Services Limited! They emphasized that it is important for businesses to focus on people first and then technology.
The main takeaways include,
Candidate experience is vital for any industry, and AI can ensure that
More companies need to invest in personalisation and automation technology that can deliver personalized interactions at every touch-point
AI is only a tool to empower talent leaders; ultimately, "human" is the core of human resources
Automation and AI are inevitable in recruitment. So is the need to deliver a great candidate experience.
Technology and recruiters have to work in tandem to meet the great expectations of candidates
An Incredible Response to our HR Quiz & Giveaways!
We conducted an HR quiz at the venue on the first day, and the response to it was overwhelming! Our winners took home a chic laptop bag too. Here are a few of our winners: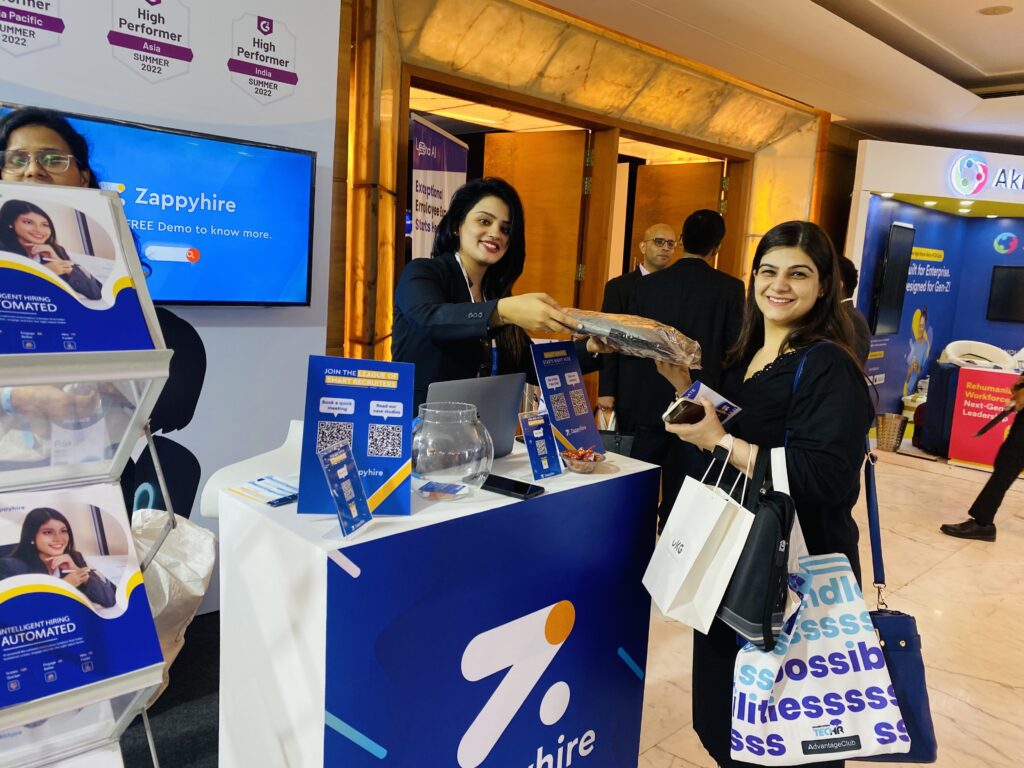 We were thrilled by the response that we conducted yet another giveaway for the quiz on the second day, and the gift was even bigger – A brand new Fire-Boltt Ring 3 smartwatch! This was won by Aditi Bajpai (Senior People Success Analyst) from vdx.tv.
An Eventful Time!
All in all, it was an enriching journey—we met so many people who are working on exciting projects, and we were able to share our own vision for the future of recruiting with them.
We had an amazing time, and we're so grateful to have been a gold partner at the event. We met lots of thought leaders, startup co-founders, and other professional HR professionals who were all dedicated to making the world a better place for their employees.
Our most special meetings were with Ester Martinez, CEO of People Matters, and Sudha Vijayakumar, Senior Manager, Human Resources at CareStack™ – Dental Practice Management.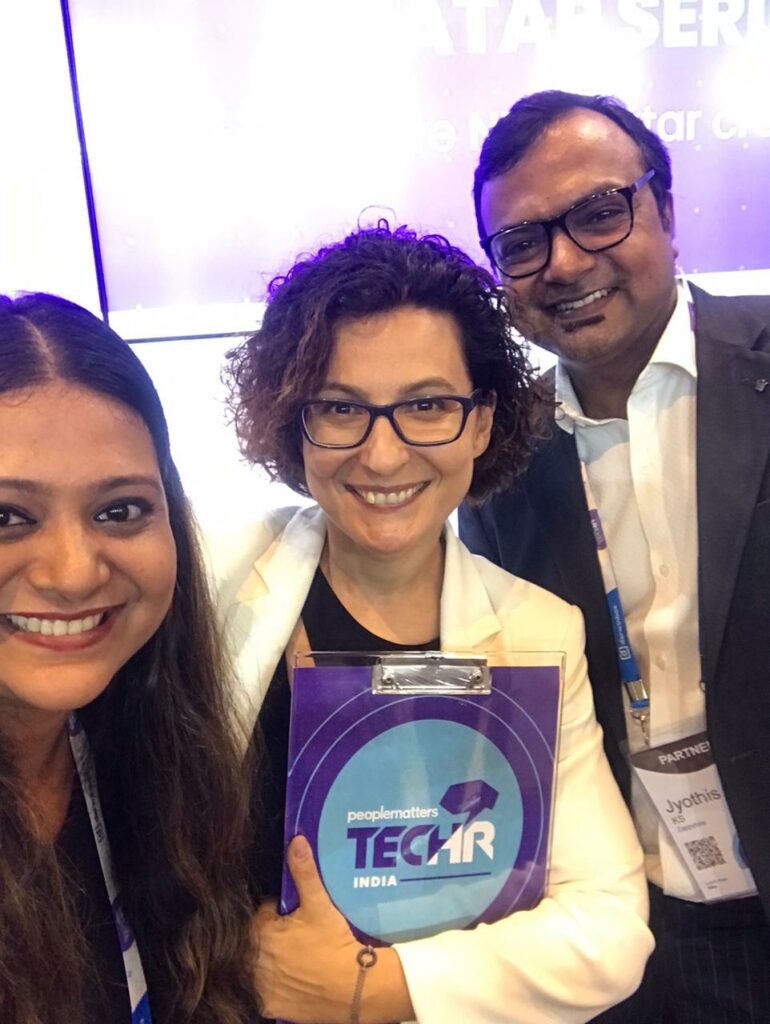 Thanks again to everyone who stopped by our booth at People Matters TechHR India 2022 – we hope we'll see you next time and have fun playing even more games! We're grateful for all of the connections we made and are excited about working with them in the future!
Here's the last photo of us before we bid adieu to the event.