Every company, regardless of size, needs a recruitment platform in order to attract and hire new talent. The best recruitment software will have the tools you need to streamline your hiring process and increase productivity.
Recruitment software and tools help businesses manage their hiring process more effectively. HR teams use recruitment platforms to publish job openings, review candidates, and schedule interviews. But with so many options on the market, it can be hard to narrow down which tools best fit your company's needs.
You need to make the most of your recruiting efforts, and that means finding the best recruiting software for your needs. It's true that you could scour the internet for hours and get a list of dozens of recruiting tools, some of which you might never have heard of before.
Or, you can save yourself a lot of time and begin your search with these top 10 recruiting tools. There's no need to reinvent the wheel – after all, thousands of companies just like yours had to do their research during the selection process! This guide will break down some of the best recruiting management systems on the market today.
Let's See the 10 Best Recruitment Softwares of 2022
1. Zappyhire
Zappyhire is one of the best recruitment software that makes recruiting and hiring simple and straightforward. This cloud-based recruitment management solution supports end-to-end talent acquisition for HR teams in any industry. It includes a variety of tools for screening candidates, managing job openings, and tracking candidates throughout the hiring funnel. It is an efficient applicant tracking system which includes collaboration tools that allow recruiters to share notes about candidates with their colleagues. The platform comes with an automated workflow feature, which helps users manage the recruitment pipeline for various departments within the organization. Zappyhire is also known to deliver the best candidate experience with a candidate-centric process and gamification.
To top it all, Zappyhire is powered by Artificial Intelligence and advanced predictive hiring capabilities that provide recruiters with intelligent recommendations throughout the recruitment cycle based on past hiring patterns.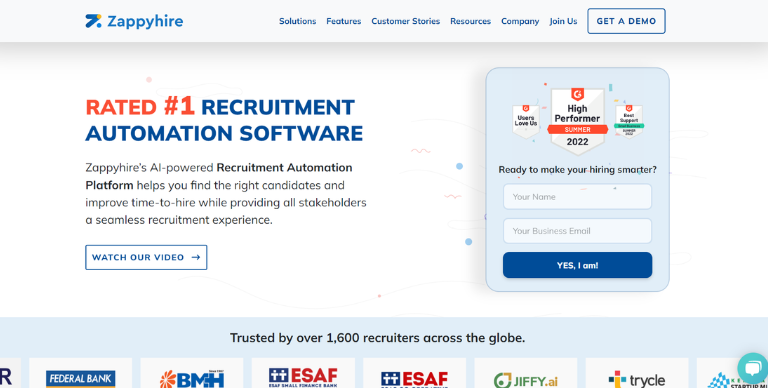 Best For: Startups, SMEs, Large Business
Pricing: Starts at $39/month
G2 Rating: 4.5/5
2. Greenhouse
Greenhouse has the ability to customize each of its core applications, providing users with robust tools and comprehensive onboarding processes. The software solution is best-suited for large enterprises because of its numerous customization options and in-depth collaboration functions. Greenhouses ATS equips talent acquisition teams across companies with the tools they need to manage their hiring and new-hires with ease. Their comprehensive suite of tools provides a robust foundation for businesses looking to scale quickly without sacrificing on quality.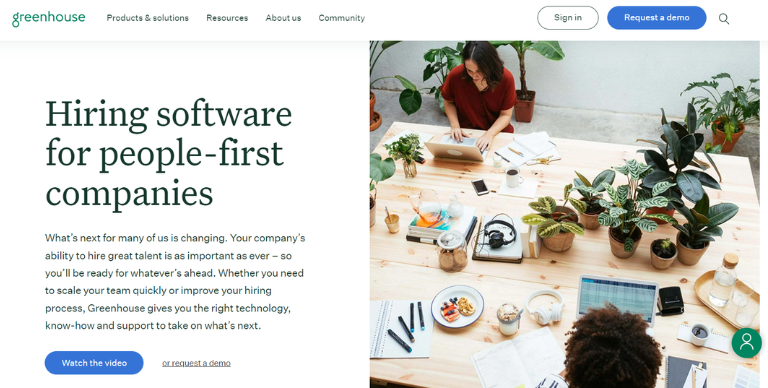 Best For: Enterprise
Pricing: Custom
G2 Rating: 4.4/5
3. Zoho Recruit
Zoho Recruit offers a number of features like the ability to make talent searches across multiple positions at once, create a careers page that gives prospects an opportunity to learn more about you, as well as get referrals from your staff members so that building a talent pool is easier. Zoho Recruit works best when paired with other Zoho products, but through Zapier integrations, it is possible to build custom solutions as well.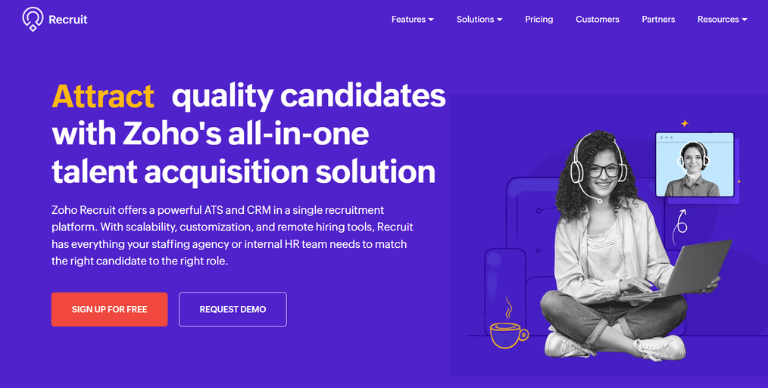 Best For: Enterprise
Pricing: Standard – $30 /month, Professional – $60 /month, Enterprise – $90 /month.
G2 Rating: 4.4/5
4. Lever
Lever provides tools which enable you to build a professional talent acquisition strategy and make discovering, engaging, and recruiting the best talent easy and efficient. Lever hastens the processes of setting up job posts, running a streamlined screening process, sourcing top candidates and conducting on-demand interviews from anywhere with mobile phone devices through their web-based software application. Lever analytics gives business owners actionable data visualization and insights to make better decisions.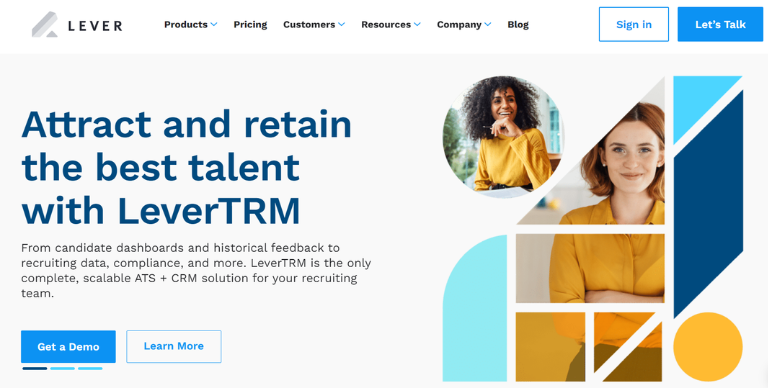 Best For: Enterprise
Pricing: Custom
G2 Rating: 4.2/5
5. Skillate
Through Skillate, employers can identify and hire the best possible candidates with just a few clicks without having to go through several hiring cycles and interviews. The system helps eliminate any discrepancies that might otherwise cloud the process and save money on recruitment fees as well. NLP and AI understand the context of the candidates being evaluated and will enable Skillate's algorithms to pinpoint better job matches while keeping the human factor in account. It automates repetitive and time-consuming work of manually screening & short-listing candidates by using special algorithms to match candidates' information and provide accurate results.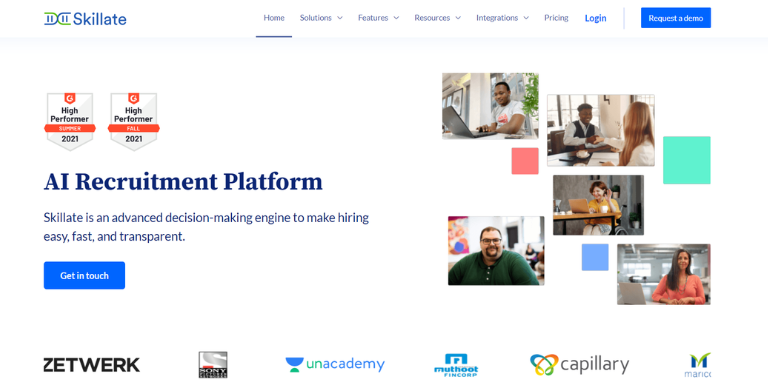 Best For: Startups, SMEs, Large Business
Pricing: Custom
G2 Rating: 4.9/5
6. TurboHire
TurboHire is an AI-driven recruitment solution that streamlines the entire hiring process from start to finish. It includes tools for advertising job openings on social media platforms like LinkedIn, Facebook, Twitter, and Instagram; sourcing passive candidates; and communicating with applicants via text message or email. You can easily manage your hiring process, from posting a job and screening candidates to scheduling interviews and tracking your candidates' progress and performance.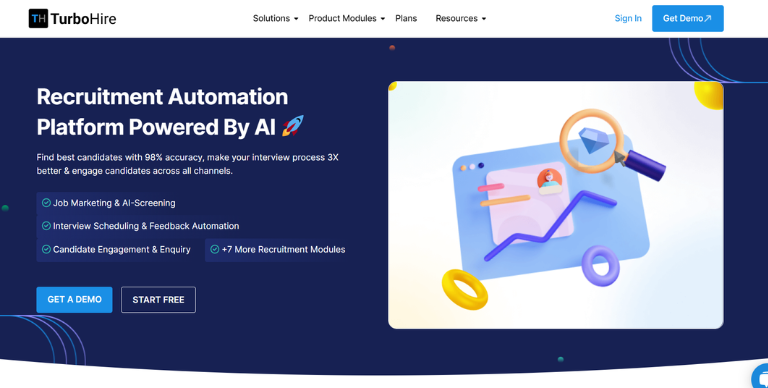 Best For: Startups, SMEs, Large Business
Pricing: Custom
G2 Rating: 4.6/5
7. SmartRecruiters
SmartRecruiters, used by some of the fastest-growing brands in the industries like fitness apparel and entertainment, offers a fully revamped applicant tracking system designed for today's modern talent acquisition needs. It doesn't just offer an alternative to lacklustre applicant tracking systems but is a step forward in making sure that your candidates are happier and feel more involved with the hiring process. Companies like Visa, Skechers, LinkedIn, Equinox, and McDonalds use SmartRecruiters to connect with candidates in more creative ways.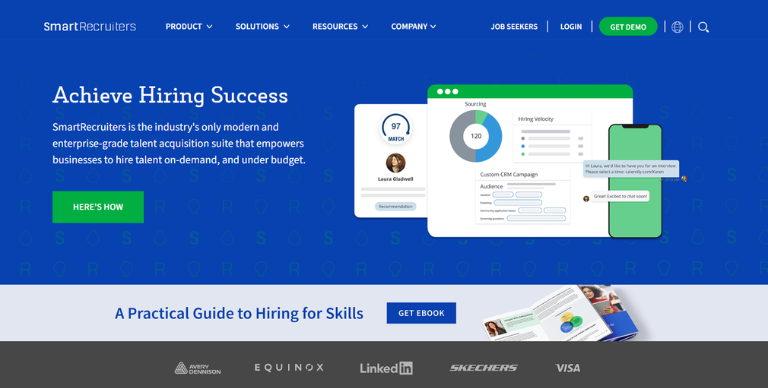 Best For: Startups, SMEs, Enterprise
Pricing: Custom
G2 Rating: 4.3/5
8. Recruitee
Recruitee helps to connect your internal HR teams with the rest of your organization in a way that brings forth the best-available talent on the market. With an easy-to-use interface, thousands of scaling businesses like Coca Cola and Shell have used this recruitment management and applicant tracking system. Their collaborative hiring software has been integrated into more than 100,000 businesses making it easier for them to solidify their talent pipelines and attract top talent.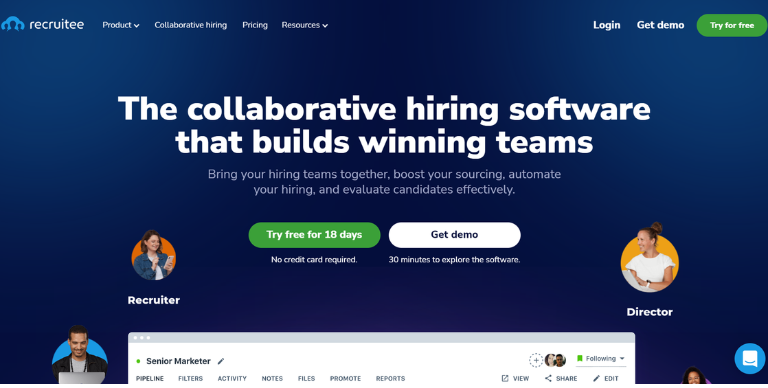 Best For: SMEs & Enterprise
Pricing: Launch – $222 /month, Scale – $399 /month, Lead – Custom.
G2 Rating: 4.5/5
9. Talview
Talview is an easy-to-use automation technology that leverages chatbot, video interviewing, pre-hire assessment, and remote proctoring solutions to screen, qualify, and interview candidates. Talview is easy to use and the video interviewing component of the system allows for the greatest availability for candidates to schedule their interviews. It takes the place of traditional phone screening, allowing them more time to focus on candidates who are more likely to be successful in the hiring process.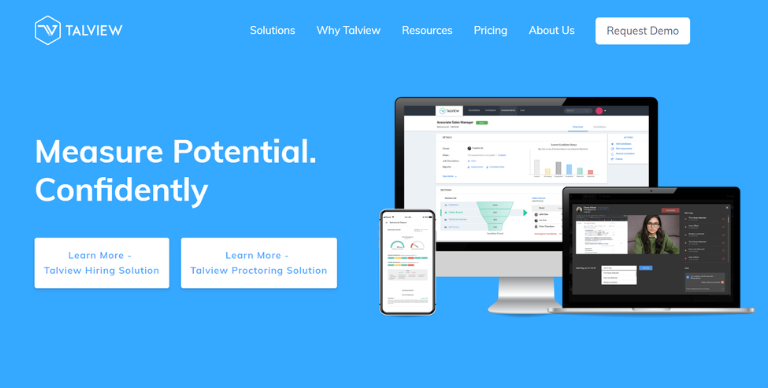 Best For: Startups, SMEs, Enterprise
Pricing: Custom
G2 Rating: 4.5/5
10. BambooHR
BambooHR is a robust and affordable HR management solution designed to help growing companies manage their employees effectively. The HR management software allows managers to easily track employee information in one convenient cloud-based location. BambooHR's intuitive platform helps save time by providing tools needed for accurate data collection, detailed reporting capabilities, efficient time tracking that allows employees to self-service their own time off requests, as well as employee record management. Some of BambooHR's clients include Fitbit, Klout, FreshBooks and Squarespace among others.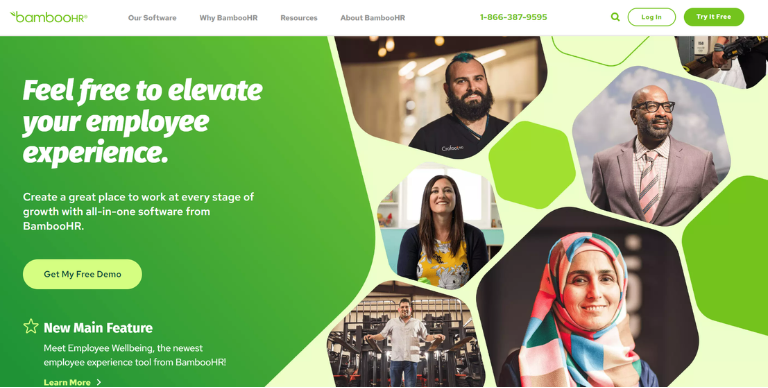 Best For: SMEs & Enterprise
Pricing: Custom
G2 Rating: 4.4/5
Hiring the right people is critical to the success of any business. It takes a lot of time, money and effort to hire, train, and onboard new employees.
According to a study by the Society for Human Resource Management, the average time it takes to fill an open position is 42 days. That's a long time! And it can be costly — labour costs alone can add up to $8,000 per hire.
With the growing competition in the job market, it is quite difficult to find the right candidate for a job position. Recruitment software is an excellent solution for this problem and can help you hire new employees without much of a hassle and can automate most of the mundane tasks to make your job easier. With the right recruiting software, you can save time on laborious tasks and spend more time making important hiring decisions. We hope this handy list was helpful in your quest to find the best hiring platform that will be apt for you!