The most successful businesses are made up of the best talent. Hiring the right people can help your company grow and increase productivity. Unfortunately, it's becoming more difficult to attract talented candidates. Nearly half of hiring managers say that finding skilled candidates is a challenge for their organization.
Finding top talent for your business doesn't have to be so difficult. There are some simple ways to improve your company's recruiting strategies. Here are 5 recruitment tips for you to consider, moving forward in 2022:
5 best recruitment strategies that you can practice to be a smart recruiter
1. Take charge of the time consumed in the process
To manage the process, you need to understand what can be done and how much time is needed for each of its parts. You need a hiring plan that focuses on the end goal. When you have a clear understanding of what needs to happen at each step in the process, you'll be able to better manage expectations, identify where your organization has been falling behind (or getting ahead!), and figure out where you can improve on your existing hiring practices. It takes up to 3 months on an average to make a hire. The best way to speed up the hiring process is, undoubtedly, invest in an ATS.
This isn't just about crafting the perfect job description to attract the best candidates. It also involves taking advantage of technology like an Applicant Tracking System (ATS) that can help you be a better recruiter by eliminating some of the most common human errors recruiters make when screening candidates. It can save time, ensure accuracy, and streamline your workflow so you can focus on getting better results from your recruitment efforts.
2. Discover an ATS to manage your candidates
As a recruiter, you have some key goals:
Source those candidates from a variety of channels
Promote your brand to attract more qualified candidates
Engage with those candidates through meaningful interactions
Keep track of all this information in one place
Perhaps most importantly, you want to hire the best people for the job. This means you need to know who is best qualified and where they are coming from. This is where an ATS (Applicant Tracking System), can help you become a smarter recruiter.
The most efficient recruiters have learned to use an ATS to their benefit. An ATS can help you identify the best candidates for your job openings, as well as manage your time and hiring processes. You're busy enough trying to find great people for your team without having to sort through hundreds of resumes and organize all the information about each one. An ATS does it all for you by filtering out unqualified candidates and automating tedious tasks like job postings and interview scheduling.
3. Leverage social media
First, let's understand the difference between social networks and social media. Social networks are places where people connect, socially. Social media are platforms that allow people to post and engage with content. LinkedIn is a social network, but it's also a form of social media because it allows users to post and engage with content. Twitter is both a social network and social media as well. Facebook is exclusively a social network so long as you use it for personal purposes only. Each platform has different capabilities and different uses from a recruiting perspective.
Be strategic about deciding which platforms to use for recruiting. You don't need to be on every single platform out there — just the ones where your ideal candidates are likely to hang out or those that can help you build your brand in order to attract inbound job seekers who would be ideal for you.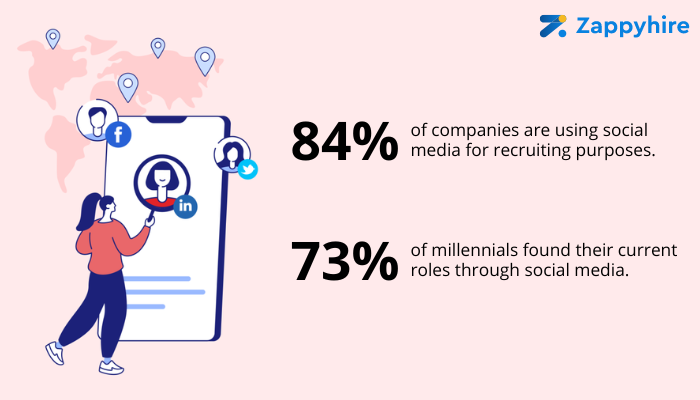 Forbes reports that LinkedIn is the most effective social media platform for recruiting, followed by Facebook and Twitter.
In addition, be consistent in branding across all channels. A candidate's first encounter with your company may occur via a job ad; another candidate may hear about the position from an employee or friend; still another may see a post on social media or read an article about the company. These messages should all be consistent, portraying your brand as one unified message across multiple channels.
Recommended Reading
How Recruitment Marketing Helps Businesses Attract and Retain Talent
Why and How to Track Recruitment Metrics
4. Create a strong employee referral program
If you're in the market to hire top talent, your best bet is not necessarily the job board. Job boards are noisy and expensive, and it takes a lot of time to sift through all of the applications. Your best chance for success is to utilize your biggest advocates – employees.
Employees are your best source for candidates because they know your company, culture and industry better than anyone else. They also have an existing network that can help you identify people who would be a good fit for the open role at your company, which helps get candidates and hire them faster.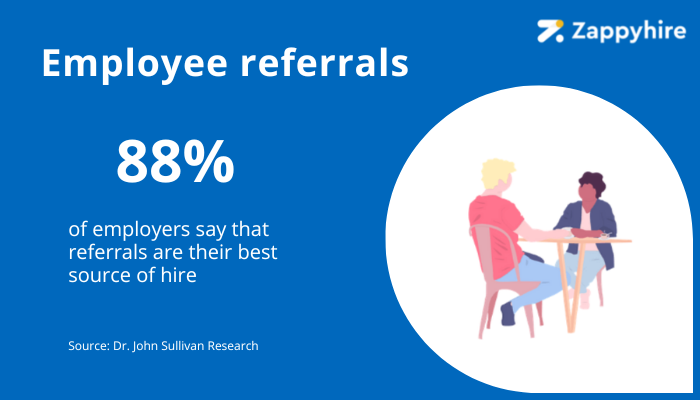 Employee referrals are also more cost-effective than any other strategy. According to Edelman, employee voice is 3x more credible than the CEO's when it comes to discussing the work environment in a company.
5. Brand your company as a great place to work
Today's job seekers, especially Millennials, want to work for companies that have a positive mission, great employer branding, and values that reflect their own. If you're not clear on what your company stands for or why it exists, then you won't be able to sell candidates on its culture. So, one of the best things you can do to attract high-quality candidates is to make sure everyone knows what your company is like.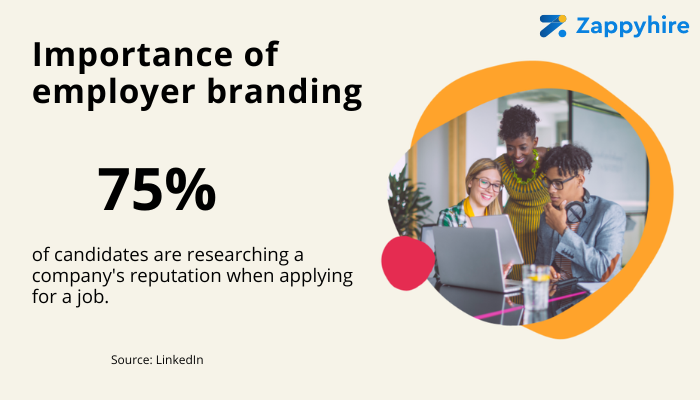 CR magazine states that 92% of employees would consider changing jobs if offered a role in an organisation with an excellent corporate reputation.
In addition to communicating core values and mission statements, you should also promote employee testimonials and benefits packages that show how much you value your workforce.
Watch the interesting conversation and suggestions about employer branding & future of talent acquisition.
The job market is extremely competitive and recruiters are frequently tasked with hiring for a variety of positions. Becoming a smarter recruiter will help you streamline your hiring process and find the best candidates faster. Consider the strategies mentioned above and make your company view new horizons. Happy recruiting!
Any hiring tactics or recruitment strategies you have experimented with to enhance your recruiting? Let us know in the comments section – would love to discuss more!