It's been another spectacular year for Zappyhire, with growth signals soaring to the highest levels since our inception! As recruiters, HR professionals and business leaders know, this past year has been filled with challenges and changes as we all adapt to the new normal of remote work and ever-advancing new tech. But even with all these challenges, Zappyhire has been there to help users navigate the trends of 2022 and make the hiring process as smooth as possible with a variety of cool upgrades and new features!
Let's dive into the details!
This year, Zappyhire saw a 103% increase in customers, a 156% increase in users, and a 3X growth in revenue. We also added users from some of the best names in the industry.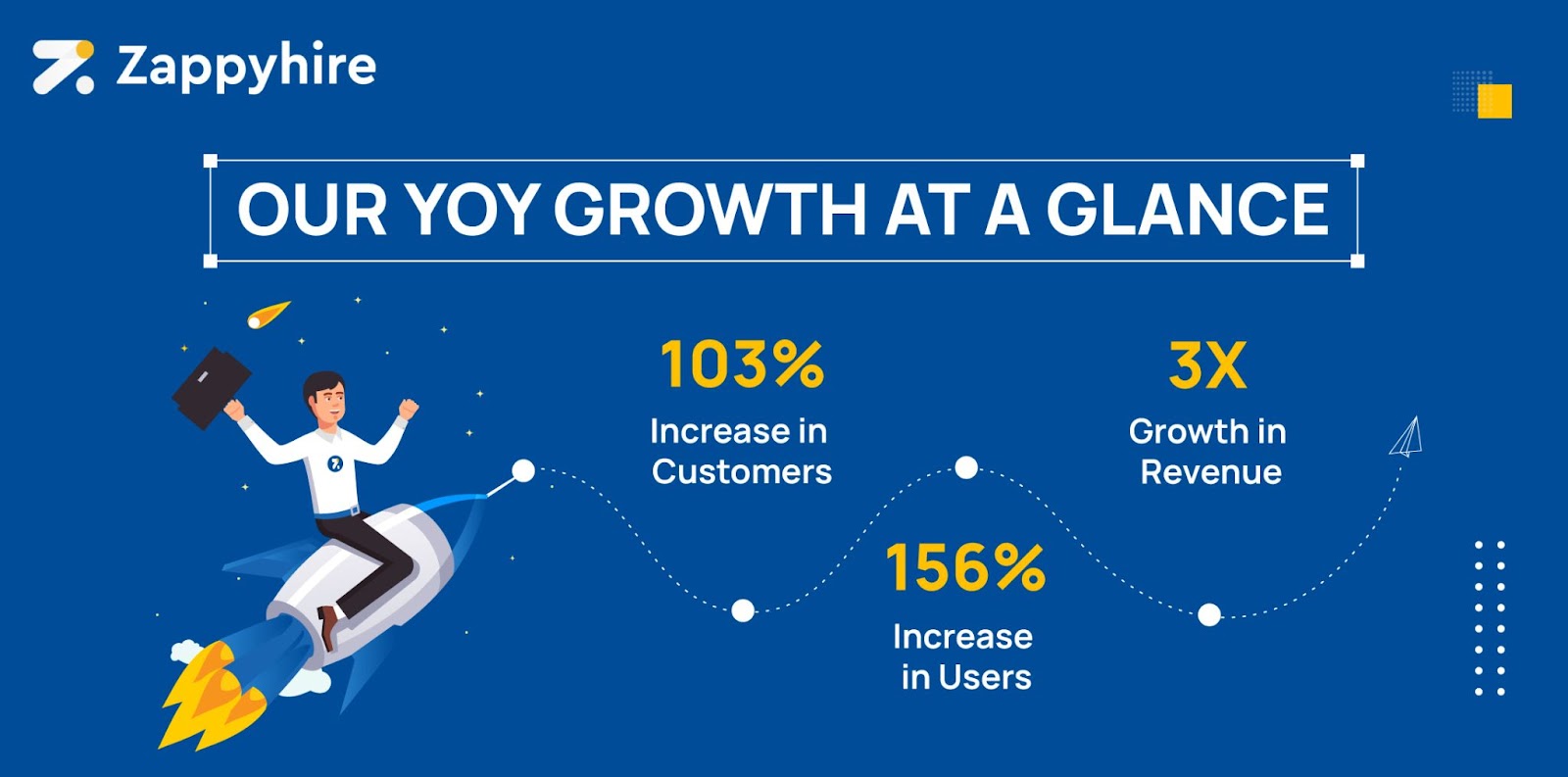 But it's not just about the numbers – Zappyhire also had some major product milestones this year. Our super recruiters (users) screened over 1.6 million candidates, conducted over 101K+ interviews, created over 11K+ jobs, and we now have 4000+ super recruiters in our rapidly-growing user base. We even rolled out the Spanish version of Zappyhire to better serve our international customer base!
Awards and Accolades!
And let's not forget the awards and recognition that Zappyhire received this year. We won the Digital India Platinum Award 2022 from the Government of India for their Digital Workforce Management System, and received 32 G2 badges in just 9 months on the platform! We were also recognized as a High Performer in the Recruiting Automation, ATS, and Video Interviewing Software categories across the Asia Pacific, and were praised for our customer obsession, earning the titles of Best Support and Easiest To Do Business With. Kudos to our dedicated teams for that!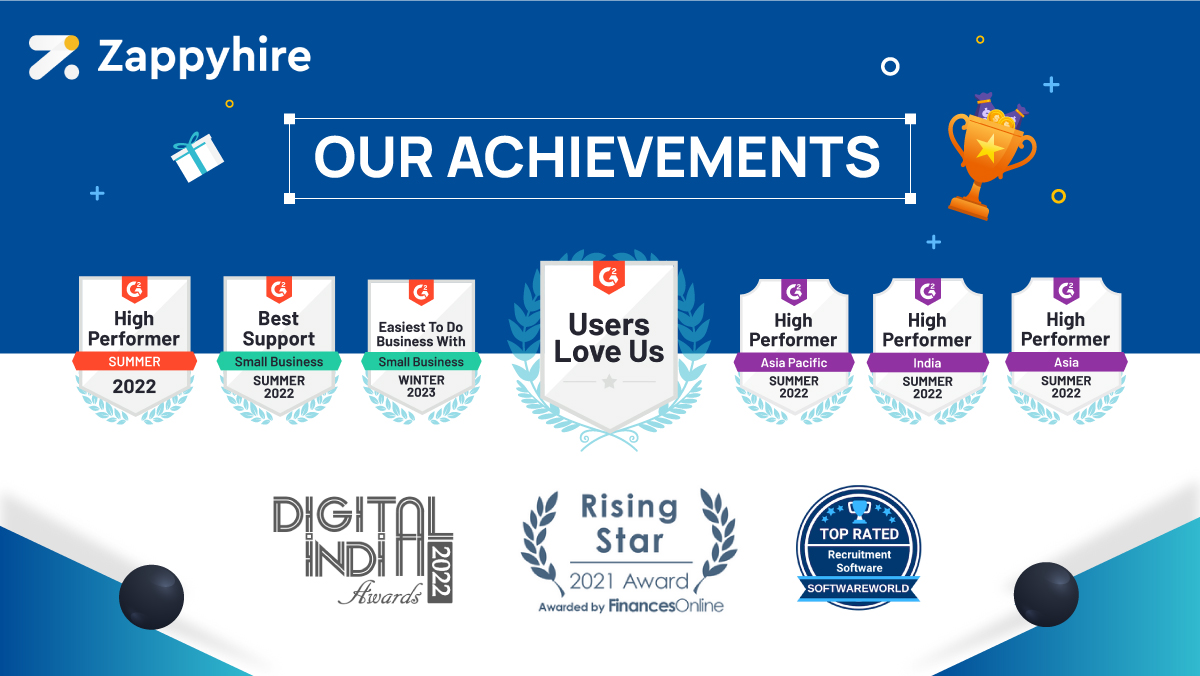 What's more? We were featured in prestigious publications like the Economic Times, PeopleMatters, YourStory, MiA, and more. Zappyhire was also listed as one of the top 5 HR tech startups and was featured as one of the 101 Most Innovative Companies!
But the fun doesn't stop there!
Zappyhire has even more exciting things in store for 2023. We're opening our next funding round soon and are thrilled by the responses we've gotten so far in such a short time, and we're looking for more investors to join in on the action! We're also further expanding our business across the globe. And of course, we'll be continuing to grow our global team and bring on the best talent to join our fast-growing super-startup.
Zappyhire marches on with a global vision!
In 2023, Zappyhire looks forward to continually improving and expanding the product offerings to meet the evolving needs of our global customers while also delivering high-quality support throughout their journey.
We are deeply grateful for the trust our customers and investors have placed in us, and we recognize that it is only through the hard work and dedication of our team and partners that we are able to create a product that truly stands out in the global market. In doing so, we push the boundaries and status-quo to give our users the best possible version of Zappyhire. Thank you for choosing and believing in us, and we look forward to continue serving you in the future – bigger and better!
All in all, it's been another fantastic year for Zappyhire and we can't wait to see what 2023 has in store!
If you're in the recruiting industry, be sure to give us a try!
Zappyhire is the only talent acquisition suite combining four unique value propositions:
End-to-end recruitment automation
Augmented data intelligence
Unmatched candidate experience
Highly-rated customer support
Try Zappyhire – you won't be disappointed!
Featured in the media