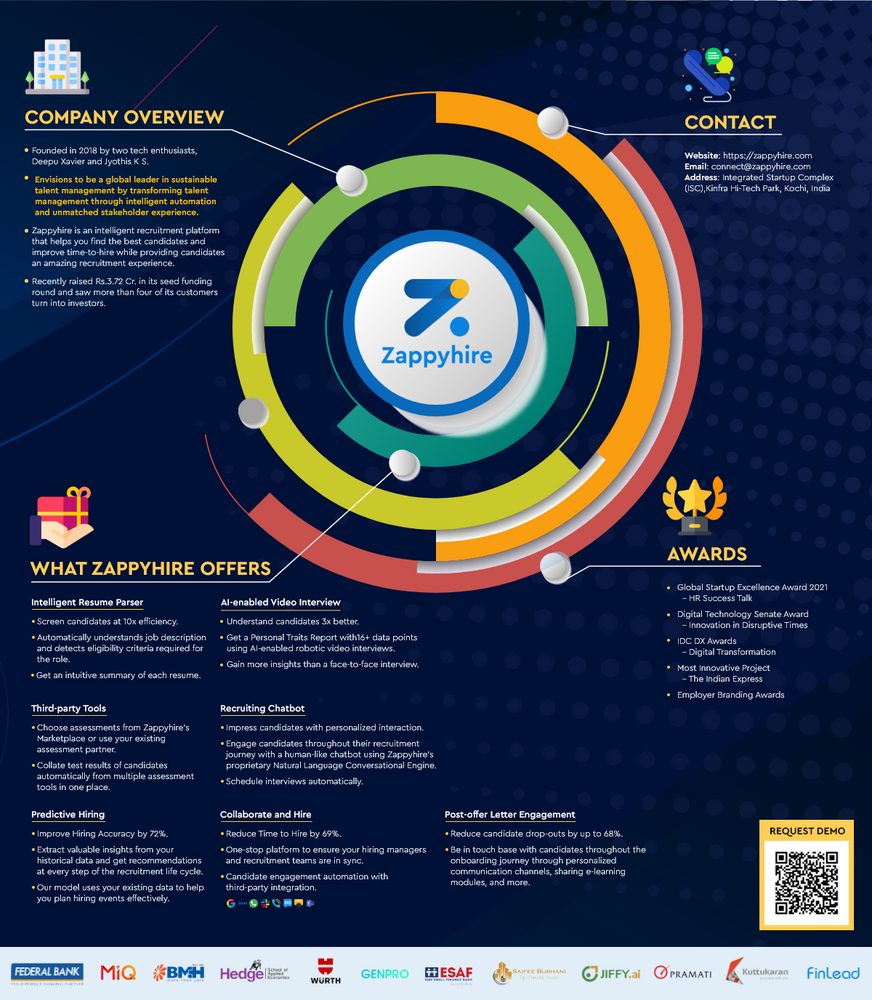 COMPANY OVERVIEW
Founded in 2018 by two tech enthusiasts, ,Deepu Xavier and ,Jyothis K S.
Envisions to be a global leader in sustainable talent management by transforming talent management through intelligent automation and unmatched stakeholder experience.
Zappyhire is an intelligent recruitment platform that helps you find the best candidates and improve time-to-hire while providing candidates an amazing recruitment experience.
Recently ,raised Rs.3.72 Cr. in its seed funding round and saw more than four of its customers turn into investors.
WHAT ZAPPYHIRE OFFERS
Screen candidates at 10x efficiency.
Automatically understands job description and detects eligibility criteria required for the role.
Get an intuitive summary of each resume.
Understand candidates 3x better.
Get a Personal Traits Report with 16+ data points using AI-enabled robotic video interviews.
Gain more insights than a face-to-face interview.
Choose assessments from Zappyhire's Marketplace or use your existing assessment partner.
Collate test results of candidates automatically from multiple assessment tools in one place.
Impress candidates with personalized interaction.
Engage candidates throughout their recruitment journey with a human-like chatbot using Zappyhire's proprietary Natural Language Conversational Engine.
Schedule interviews automatically.
Improve Hiring Accuracy by 72%.
Extract valuable insights from your historical data and get recommendations at every step of the recruitment life cycle.
Our model uses your existing data to help you plan hiring events effectively.
Reduce Time to Hire by 69%.
One-stop platform to ensure your hiring managers and recruitment teams are in sync.
Candidate engagement automation with third-party integrations like Zoom, Microsoft Teams, WhatsApp, G-Suite, Slack, SMS, E-mail, and more.
Post-offer Letter Engagement
Reduce candidate drop-outs by up to 68%.
Be in touch base with candidates throughout the onboarding journey through personalized communication channels, sharing e-learning modules, and more.
AWARDS
Global Startup Excellence Award 2021 – HR Success Talk
Digital Technology Senate Award – Innovation in Disruptive Times
IDC DX Awards – Digital Transformation
Most Innovative Project – The Indian Express
Employer Branding Awards
CONTACT US
WANT TO TRY OUT RECRUITMENT AUTOMATION? ,REQUEST A DEMO RIGHT NOW!